Add to Cookbook

Home-made crumpets
55 minutes (including resting time)
15 minutes
6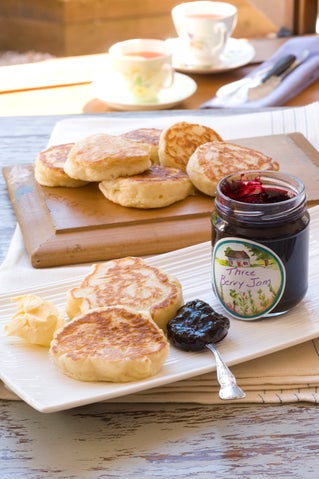 Crumpets take their name from the old Anglo-Saxon word 'crump'. It means to 'curl up'. They were cooked on a griddle and were once so thin they'd curl up. Large egg rings can be used to make perfect shaped crumpets. They'll need greasing to avoid the batter sticking. I prefer free-form, odd-shaped crumpets.
Ingredients
1½ cups milk
2 teaspoons sugar
1 tablespoon active dry yeast
2 cups flour
1¼ teaspoons salt
Method
Put the milk into a medium-sized jug or bowl and heat in the microwave for 1 minute or until lukewarm. This can also be done in a saucepan. Stir in the sugar and yeast.
Set aside to stand for 10 minutes or until the mixture is bubbly and frothy.
Sift the flour and salt into a large bowl and make a well in the centre.
Pour in the frothy liquid and beat to a smooth paste, a wooden spoon is best here. Cover and set aside in a warm place for 30-40 minutes until the mixture is very frothy. Do not knock the bubbles out of the mixture.
Heat a frying-pan over a moderate heat and drop a decent knob of butter into the pan. Swirl to coat the entire base of the pan. Once hot, cook large dessertspoonfuls of mixture in the pan for 3-4 minutes until the bubbles burst, then flip and cook the other side for 1-2 minutes until golden and spongy to the touch.
Transfer the cooked crumpets to a clean tea towel-covered cake rack to cool. Continue with the remaining mixture.
Toast the crumpets if wished so they have a cripsy outside before serving with butter and three-berry jam (see recipe on our website).