Add to Cookbook

Herbed roast scotch fillet
1¼ hours includes resting time
1¼ hours
12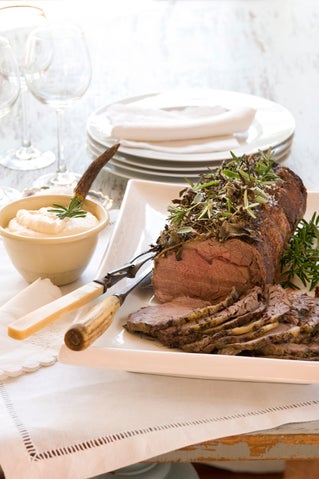 A well-rested roast Scotch fillet of beef melts in the mouth. You need very little to accompany such a fabulous prime cut, though, when available, I love home-made horseradish cream, or for an easier accompaniment try a selection of mustards, chutneys or sauces.
Ingredients
2 kilogram piece Scotch fillet of beef
1 teaspoon freshly ground black pepper
4-6 large stems of rosemary
1-2 bunches of fresh sage
home-made horseradish cream (see recipe on our website)
Method
Preheat the oven to 200ºC. Line a baking tray with foil or baking paper.
Remove the beef from the fridge 1 hour before roasting. Keep well covered. All meats especially larger pieces for roasting will cook better if cooked from room temperature and not directly from the fridge.
Place the beef on the prepared tray.
Season the beef with pepper and, if wished, a little salt. Place the herbs on top and secure with kitchen string or twine - do not use a plastic-coated twine as it will melt!
Roast in the preheated oven for 1¼ hours, until medium-rare to medium. Best results will be gained by testing with a meat thermometer.
Stand the roast for 15 minutes before carving into thin slices. Reserve any meat juices for the home-made horseradish cream.
Cooks Tips
- Allow 20 minutes per 500 grams for medium-rare meat. - When calculating how much beef to buy, allow 150 grams (uncooked weight) per person. - Do not roast any higher than 200ºC as the meat will shrink too much. - The beef can be roasted at 180ºC, but allow an extra 30 minutes' cooking time. - Internal temperature for meat when cooked are: 60ºC medium-rare 65ºC medium 75ºC well-done Meat thermometers can be found in most supermarkets today. - For the kids, slice off a couple of thin minute-style steaks and barbecue these when they are ready to eat. This is especially useful if medium-rare beef is not liked by younger members - and don't forget the tomato sauce!