Add to Cookbook

Herbed chicken in quince jus
30 minutes
in the slow cooker low 5-6 hours, high 3-4 hours, plus extra 10-15 minutes
4-5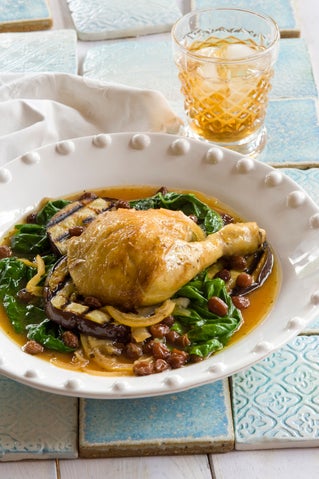 This dish has been inspired by the flavours of Greece. Serve it simply with a generous pile of steaming hot-buttered or olive-oil-soaked orzo pasta and a chilled glass of wine for a delightfully casual meal.
Ingredients
1.5-1.6 kilogram whole chicken
¼ cup olive oil, virgin olive oil is nice here
1 large juicy lemon, thinly sliced
1 onion, peeled and finely sliced
1 cup raisins
100 grams quince paste, sliced
1 teaspoon dried oregano
1 cup chicken stock
2-3 bunches spinach, washed
Method
Turn the slow cooker on to low to pre-warm while gathering and preparing the ingredients.
Rinse the chicken and pat the cavity dry. Tie the chicken legs together so it keeps a good shape while cooking.
Heat the oil in a deep, heavy-based frying-pan and, when hot, add the chicken and brown as well as possible on all sides.
Into the pre-warmed slow cooker layer the lemon and onion. Scatter over the raisins, quince paste and oregano.
Sit the chicken on top and pour in the chicken stock and olive oil. Season with salt and pepper and cover with the lid.
Cook on low for 5-6 hours or on high for 3-4 hours.
Lief the chicken from the slow cooker, place on a warm plate and cover.
Tear the coarse stems from the spinach leaves and rinse the leaves. Shake well to remove excess water and add to the slow cooker. Stir to mix as evenly as possible. Sit the chicken on top of the spinach, cover and cook on high for 10-15 minutes or until the spinach leaves have wilted.
Carve the chicken into generous portions and serve on grilled eggplant slices with some of the sauce and spinach.
Cooks Tips
Variation - Use 6 chicken leg and thigh portions in place of a whole chicken. A little extra cooking time may be required.