Add to Cookbook

Grilled lamb with lemon and crushed coriander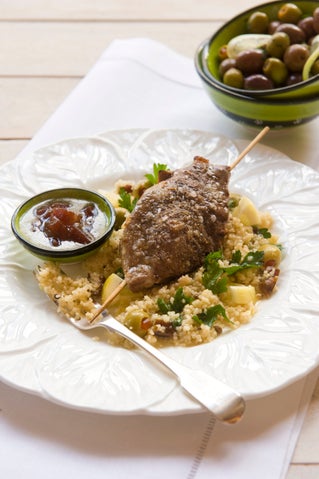 Coriander seeds have a completely different flavour to the pungent green leaves. The seeds have lemony-sage undertones which intermingle well with fresh lemon in this tangy marinade that's ideal with tender New Zealand lamb.
Ingredients
½ onion, peeled
¼ cup oil, olive is nice here
grated rind and juice of 1 lemon
1 tablespoon toasted coriander seeds, crushed
½ teaspoon salt
4-6 lamb steaks or 6-8 lamb loin chops
Method
Grate or finely chop the onion. Mix with the oil, lemon rind and juice, coriander seeds and salt.
Place the lamb in a single layer in a dish and pour over the marinade. Turn to coat. Cover and stand for 10 minutes or until ready to cook.
Barbecue or pan-fry the lamb steaks or chops over a moderately high heat for about 4-5 minutes each side. The lamb should remain pink. Rest a minute or two before serving with the date and lemon couscous salad with lemon dressing (see recipe on our website)
Cooks Tips
- Toast coriander seeds in a hot frying pan, shaking regularly until they darken in colour and become fragrant. Once toasted, transfer to a plate to arrest further cooking and potential burning.
- Lamb cuts to use: Loin chops are an economical choice. Lamb cutlets are more expensive and equally delicious. Allow 4-5 minutes cooking time. Lamb steaks from the rump are ideal.
- Pierce a bamboo skewer through the lamb steaks to keep them in a nice shape while cooking.
- For the kids the cutlets can be left unmarinated and, when you serve them, wrap the bones in a serviette, have tomato sauce nearby or another family favourite, and let kids eat and play at the same time. Also, as many kids are not fond of 'bitee' foods, like couscous, have a platter of sliced raw vegetables and fruit from them to come and grab. In my home, they would also have the ubiquitous onion dip, but that's your call!