Add to Cookbook

Grilled lamb cutlets with soft cheesy polenta
5 minutes, marinate time: 15 minutes
35 minutes
6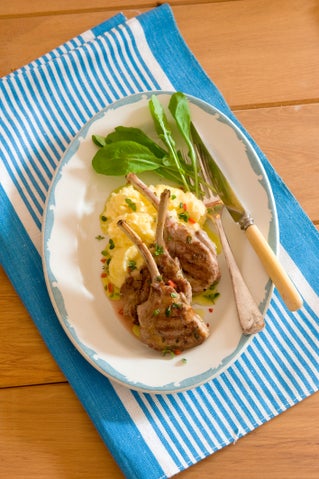 This combination is a delicious example of Bridget's culinary philosophy - home grown, or at least local, fresh, seasonal, simple and tasty. On the evening of our visit, as we sat under a star-lit night sky enjoying this meal, you could easily say that Bridget's philosophy shows how the simple things in life are truly the best.
Ingredients
2 small fresh red chillies, deseeded
6 sprigs fresh thyme, leaves removed
grated rind and juice of 2 lemons
2-3 tablespoons virgin olive oil
8-12 lamb cutlets
Soft cheesy polenta
3-4 cups stock
1 cup polenta
½ cup grated Parmesan
Method
Chop the chillies and thyme leaves and mix with the lemon rind, juice and olive oil. Brush the mixture over both sides of the lamb cutlets and set aside, in a covered dish, for 10-15 minutes at room temperature for the marinade to flavour the meat. If leaving any longer, refrigerate until ready to cook.
Cook on a hot, preheated barbecue grill for 2-3 minutes each side. Transfer to a serving platter and allow the cutlets to rest for a few minutes before serving. Any juices that collect on the platter can be poured over the polenta when serving.
Soft cheesy polenta
Bring 3 cups of stock to the boil in a large saucepan and, when hot, whisk in the polenta. Turn the heat to low and continue to stir for 30 minutes or until the mixture comes away from the sides of the saucepan and a smooth texture is reached, adding more stock if required. There should be no gritty texture when tasted. Stir in the cheese and season with salt and pepper.
Cooks Tips
- Bridget's Kiwi Organics polenta is not a fast-cooking variety, the latter being more commonly sold in supermarkets. Fast cooking varieties, also called 'instant polenta', require only 5-8 minutes cooking time. To be safe, read the label before cooking. - Add a good dash of cream and a generous knob of butter to the polenta for a rich creamy taste, if wished.