Add to Cookbook

Grilled halloumi in vine leaves
10 minutes
10 minutes
4 as a nibble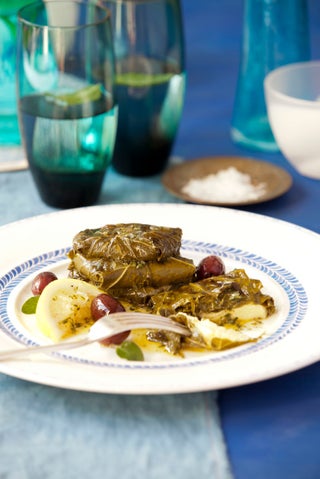 While this is an ancient cheese from the regions of and near Cyprus, it's arrival on our shelves is fairly recent. It may look like feta, but the curd is cooked in hot water before being kneaded and rolled out. Halloumi requires heating to appreciate its nuances and is available plain or minted.
Ingredients
12-16 pickled vine leaves, rinsed and dried
juice 1 lemon
2 tablespoons virgin olive oil
1 teaspoon chopped fresh oregano or thyme
a sprinkle of paprika and ground black pepper
175 grams halloumi cheese, thinly sliced
Method
Rinse the vine leaves in cold water, dip quickly into very hot water and then pat dry on paper towels.
Mix the lemon juice, olive oil, herbs and spices together. Cut the cheese into 6-8 even-sized pieces and toss in the lemon juice mixture.
Place 2 vine leaves together slightly overlapping each other. Place a piece of halloumi in each leaf and wrap to enclose.
Heat a good dash of olive oil in a frying pan or sandwich grill and fry/grill the cheese parcels for 2-3 minutes (each side if frying). Place on a plate and serve drizzled with extra lemon juice and olive oil to serve.
Cooks Tips
- Some brands of halloumi cheese are short and squat, others are flatter in shape. The 6-8 pieces can be cut to any shape really - whatever suits the block you have purchased.