Add to Cookbook

Grilled duck breast on lentil, olive and walnut salad
20 minutes
15 to 20 minutes
10 minutes
4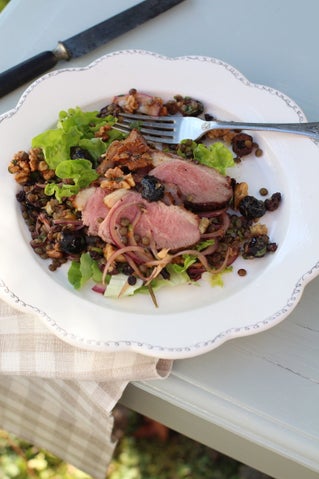 Duck's gentle gamey flavour is a great match to lentils, olives, oranges, walnuts and mint, all tossed together here to create a fabulous salad on which to present your magret du canard.
Ingredients
4 duck breasts, fat well scored
Salt and pepper to season
Lentil, olive and walnut salad
1 cup green lentils
1 bouquet garni (optional)
2 oranges
1/4 cup currants
1/3 cup vinaigrette - home-made or bought
125 grams walnut halves, toasted and roughly chopped
1 small red onion, peeled and finely sliced
1-2 long green chillies, deseeded and diced
125 grams dried or juicy black olives, stoned
1/4 cup chopped fresh mint
Method
Season the duck breasts well with the salt and pepper and set aside while preparing the salad.
Cook the lentils in 4-5 cups of boiling water with the bouquet garni if using, for 15-20 minutes or until tender. Drain and set aside to cool.
Grate the rind of both oranges and place in a large bowl with the currants. Squeeze the juice from one orange and dice the flesh of the second orange finely. Add to the currants with the vinaigrette and set aside for 10 minutes to allow the currants time to soak up the flavours. Toss through the lentils, walnuts, onion, roughly chopped olives and mint. Season well with salt. Sit at room temperature while cooking the duck.
Heat a frying pan and when moderately hot, place the duck breasts fat side down into the pan. Once the fat runs increase the heat and cook for 5 minutes. Turn and cook the breasts a further 3-4 minutes. Remove from the pan and rest for a few minutes. Keep any juices that collect on the plate.
Thinly slice the duck breasts diagonally and serve atop a generous portion of the lentil salad. Drizzle any juices on top. Adding a few baby lettuce leaves with each serve will lighten the texture.