Add to Cookbook

Grilled aubergine salad and beef kebabs
4 as a main, 8 as a salad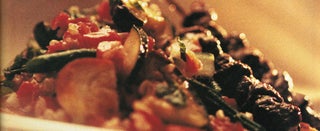 The flavours of aubergine go so well with the fresh mint flavours of this salad. Serve with beef kebabs and dressing for a BBQ.
Ingredients
1 cup wholemeal rice
1 aubergine
salt
4 tablespoons oil
4 large juicy tomatoes, finely chopped
1 red or white onion, peeled and diced
½ cucumber, deseeded and sliced
200 grams green beans, trimmed, blanched and halved
1 cup finely chopped oregano or parsley and oregano mix
1 fennel bulb, trimmed and diced, optional
½ French bread stick, finely sliced and toasted or pan-fried in butter to make croutons
4 sirloin steaks
Dressing
2 tablespoons white wine or cider vinegar
4 tablespoons olive oil
salt and pepper
pinch of mustard
Method
Cut the calyx end from the aubergine and slice. Arrange in a colander and sprinkle liberally with salt. Leave to stand for at least 20-30 minutes to allow all the bitter juices to disgorge. Rinse thoroughly under running water, then pat dry with absorbent paper.
Heat the oil in a frying pan and pan-fry the aubergine slices for about 5 minutes each side over a moderate heat until browned. Cut each slice into quarters.
Cook the wholemeal rice in boiling salted water for about 20 minutes until the grains are tender. Rinse and drain well.
In a large bowl, toss the aubergine, tomatoes, onions, cucumber, beans, oregano, fennel and croutons. Pour over the dressing and season with salt and pepper.
Beef kebabs
Trim the fat off the steaks and cut into 0.5cm wide strips. Thread the beef strips in a concertina fashion on to the skewers. If wished, marinate in a little oil, red wine, a crushed garlic clove or two and salt and pepper. Grill on a BBQ or in the oven until cooked.
Dressing
Mix all of the ingredients together in a screw topped jar.