Add to Cookbook

Greek style marinated lamb on spiced couscous
10 minutes
15 minutes
4-5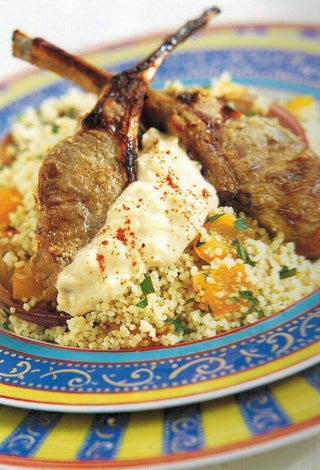 In this recipe, lamb stakes or cutlets go Greek with a flourish.
Ingredients
750 grams lean lamb steaks or Frenched lamb cutlets
½ cup natural, unsweetened, non-fat yoghurt
1½ teaspoons ground cumin
1½ teaspoons ground coriander
1 teaspoon minced fresh garlic
2-3 tablespoons oil (olive is nice here)
1 yellow pepper, deseeded and chopped
1 red onion, peeled and cut into thin wedges
1 cup couscous
1 cup boiling water
1 tablespoon each, chopped fresh mint and parsley
salt to season (optional)
259 gram tub hummus
Method
Marinate the lamb in half the yogurt, the cumin, coriander and garlic for 5 to 10 minutes.
Cook under a hot grill for 5-7 minutes, turning once, until golden and tender.
Heat half the oil in a frying pan and cook the pepper and onion until softened.
Pour the boiling water over the couscous and let stand 2-3 minutes. Stir in the remaining oil, the onion, pepper, mint and parsley. Season with salt if wished, and toss gently.
Gently heat hummus and remaining yogurt together until warm.
Serve the lamb cutlets on the couscous, with hummus and garnished with a sprinkle of paprika if wished.
Cooks Tips
Frenched lamb cutlets are trimmed of fat and have had the boned trimmed clean. They are to serve with drinks as people can hold the, easily in the hand to eat, while still enjoying a drink