Add to Cookbook

Gourmet Sausage Rolls With Sundried Tomato And Basil Dip
20 minutes
15 minutes
Makes 20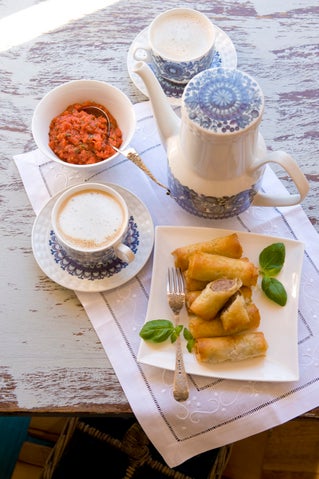 With so many gourmet variations on offer, the humble sauce is now back in fashion. For this recipe I used award-winner Duck and Porcini sausages by Little Boys. Any well-flavoured thin sausages will be ideal.
Ingredients
500 grams thin flavoured sausages
10 sheets filo pastry
125-150 grams butter, melted
Sundried Tomato and Basil Dip
3 medium-sized juicy tomatoes
12 halves sundried tomatoes in oil, well-drained
1 teaspoon minced garlic
¼ cup extra virgin olive oil
2 tblsp chopped fresh basil
Method
Quickly brown the sausages in a hot frying pan with a dash of oil, turning 2-3 times. Set aside on absorbent paper until cool enough to handle. Cut each in half crosswise.
Brush one sheet of filo pastry with melted butter and then fold in half lengthwise. Cut crosswise to make two short almost square pieces. Lay half a sausage on the filo, fold in the two outer edges and roll up. Brush with extra butter and place on a greased oven tray. Repeat with remaining sausages.
Bake the sausage rolls at 180ºC for 15 minutes or until the pastry is golden and the sausages are cooked. Allow to cool for 5 minutes before serving with the dip.
Sundried tomato and basil dip
Cut the tomatoes in half horizontally and squeeze out the pulp and juice. Place in an oven-proof dish, drizzle with a little extra olive oil and scatter over the sliced garlic.
Bake the tomatoes at 200ºC for 12-15 minutes until the flesh has softened. Add to a food processor with sundried tomatoes, basil and oil and process until smooth.