Add to Cookbook

Gourmet chicken kiev
30 minutes, chilling time: 2 hours
15 minutes
4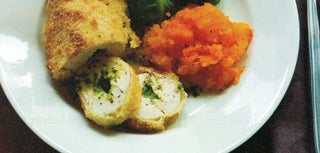 A gourmet twist on a retro classic dish.
Ingredients
125 grams butter, softened
grated rind one lemon
1 tablespoon lemon juice
2 tablespoons chopped fresh parsley or 1 tablespoon dried parsley
1 teaspoon minced garlic
4 skinless chicken breasts, wing bone attached
flour for coating
1 egg, beaten
2 cups fresh breadcrumbs
oil for deep frying
Method
Mix together the butter, lemon rind, juice, parsley and garlic. Turn on to a piece of baking paper and roll into a narrow 1cm-wide roll. Enclose in the paper and place in the freezer while preparing the chicken.
Place the chicken breasts (on what was skin side down) into a dampened plastic wrap on a chopping board. Hit firmly with a mallet or rolling pin to an even thickness, about 1cm thick.
Cut the prepared butter into 4 pieces and place a small roll in the centre of each chicken breast. Roll the breast around the butter. Secure the chicken with toothpicks to enclose. The join should be underneath and the wing portion standing upright.
Coat each chicken breast with flour and shake off any excess. Dip in beaten egg to coat before rolling in the breadcrumbs. Pat the crumbs firmly onto the chicken.
Refrigerate for 2 hours or until needed. This allows the crumbs to adhere and chicken and butter to chill well.
Heat sufficient oil in a deep fryer to 160-170ºC. When hot, carefully lower the chicken rolls into the hot oil. Deep fry for 15 minutes or until the chicken is browned and firm when pressed with the back of a fork. Do not pierce as all the garlic butter will spill out.
Drain well on absorbent paper and serve hot. When each guest cuts into the chicken breast, the butter should burst out on to the plate. For a retro touch, decorate the wing with a paper frill.