Add to Cookbook

Gluten-free lemon and currant pikelets
5 minutes
10 minutes
Makes 12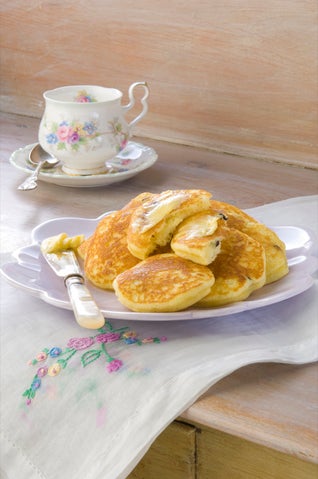 Adding a little browned butter to this recipe adds a nice sweet nutty flavour. For honey-lovers, use half sugar and half manuka or rewa rewa honey.
Ingredients
25 grams butter
1 cup gluten-free flour
1½ teaspoons gluten-free baking powder
¼ cup sugar
2-4 tablespoons currants
½ cup milk
1 egg
grated rind of 1 lemon
Method
Melt the butter in a frying pan and cook until nut brown. Remove from the heat.
Sift the flour, baking powder and sugar into a bowl. Stir in the currants and make a well in the centre.
Beat together the milk, egg and lemon rind and pour into the well. Stir together with a wooden spoon, adding the browned butter at the end.
Place dessertspoonfuls of the batter in a lightly greased frying pan over a medium heat for about 1 minute. Once bubbles appear on the surface and burst, turn the pikelets over to cook a further minute or so until well-browned and cooked. Place on a cake rack while cooking the remaining batter mixture.
Serve the pikelets warm with softened butter or lemon curd.
Cooks Tips
Gluten free flour mixes are available in most supermarkets today, but to make your own, follow this basic recipe:
2 cups rice flour
2/3 cup potato flour
1/3 cup tapioca flour
1 teaspoon powdered xantham gum
Sift all ingredients together three times. Keep stored in an airtight container.