Add to Cookbook

Girlfriend's Melt 'n' Mix Chocolate Chunk Mud Cake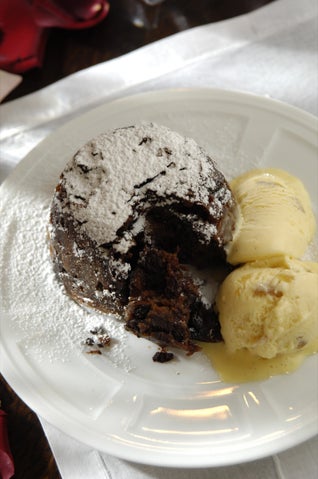 Ingredients
200 grams butter, chopped
300 grams good quality dark chocolate, chopped
¼ cup hot water
¼ cup cocoa powder
1 teaspoon vanilla essence
1 cup caster sugar
3 eggs, lightly beaten
¾ cup self-raising flour
Method
Preheat the oven to 160ºC. Grease and line a 20cm round cake tin.
Place the butter, with 200 grams of the chocolate and hot water in a large heatproof, microwave safe bowl or jug. Microwave, uncovered on high for 2-3 minutes , stirring with a metal spoon every minute, until smooth.
Add the cocoa, vanilla, caster sugar and eggs and stir until smooth.
Sift flour over choc mix and stir gently to combine.
Pour half the batter into cake pan, scatter over half the remaining chopped chocolate and pour on the remaining batter and sprinkle balance of chopped chocolate on top.
Bake in the preheated oven for 55-60 minutes or until a skewer inserted into centre comes out clean. Remove and allow to cool in tin for 30 minutes before turning out onto a cake rack to cool completely.
Sprinkle with icing sugar and serve with cream, ice cream and berries.