Add to Cookbook

Gingernuts with Fresh Ginger
15 minutes
20 minutes
Makes around 30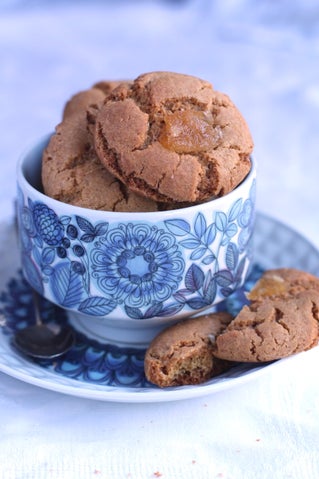 Adding fresh ginger to a biscuit recipe may sound unusual, but it adds a fresh zingy ginger note to these all-time-favourites.
Ingredients
100 grams butter, at room temperature
1 cup sugar, caster is best
1 egg, lightly beaten ( preferably large / size 7)
1 tablspoon golden syrup or treacle
1-2 teaspoon minced fresh ginger
1 teaspoon vanilla essence
2 lightly filled cups flour
1 tablespoon ground ginger
1 teaspoon baking soda
1 teaspoon baking powder
1/2 teaspoon salt
6-8 pieces crystallised ginger, finely sliced
Method
Preheat the oven to 170ºC (fan bake 150ºC). Grease one to two large baking trays, or line with baking paper.
With an electric mixer or set of beaters, beat the butter and sugar together very well. The mixture should be light and fluffy and much of the sugar should have dissolved. Add the egg and beat well. Beat in the golden syrup or treacle, ginger and vanilla essence.
Sift the flour, ground ginger, baking soda, baking powder and salt together twice to ensure an even distribution of ingredients. Work into the creamed mixture. Roll tablespoonful lots into balls and place on the prepared trays. Ever so gently, place your palm over each ball of dough and press lightly - do not flatten. Place a small slice of crystallised ginger on top .
Bake in the preheated oven for about 20 minutes, checking after 16-17 minutes. The biscuits will spread out during cooking and gain a delightful crazed look on top. They should be just lightly brown around the edges. Transfer to cake rack to cool, where they will crispen as they cool.
Kept in an airtight container, they will last about 2-3 weeks.