Add to Cookbook

Ginger chicken stir-fried rice with bok choy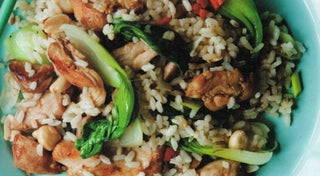 Most Chinese greens can be used here- it's a great way to add flavour and colour.
Ingredients
4 boneless chicken thighs, skin removed
2 tablespoons sweet soy sauce
3 teaspoons minced ginger
1 teaspoon minced garlic
1 teaspoon minced red chilli
200 grams mushrooms, sliced
3 baby bok choy, sliced
3 spring onions, peeled and thickly sliced
4 cups cooked rice
½ cup cashew nuts or peanuts (optional)
Method
Finely slice or dice the chicken portions and toss with the soy sauce, ginger, garlic and chilli. Cover and set aside while preparing the remaining ingredients.
Heat a dash of oil in a wok or large frying pan and when very hot, add the diced chicken and stir-fry quickly until cooked. Set aside.
Add the mushrooms and toss quickly for about 2 minutes before adding the baby bok choy and spring onions. Stir-fry for 1-2 minutes or until they begin to wilt, then add to the chicken.
Add a touch more oil to the pan if wished and when hot, add the rice and toss quickly until very hot. Return the chicken and vegetables to the wok or frying pan and toss to mix well. Season with salt and scatter in the cashews or peanuts if using.
Cooks Tips
To achieve stir-fried rice with separate grains, make sure the rice has been cooked at least 4 hours previously) preferably overnight then allowed to cool. Warm cooked rice will soak up the oil and become gluggy.