Add to Cookbook

German pork
30 minutes, marinating time: overnight
in the slow cooker low: 5-7 hours, high 3-4 hours
8-10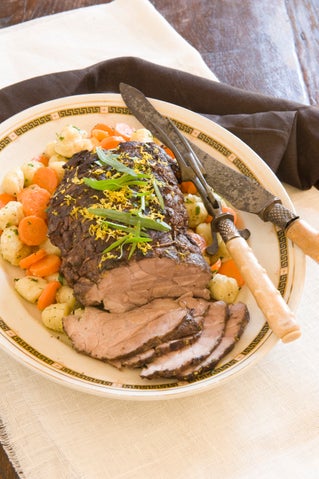 This pork is also great cold, served thinly slice din sandwiches with layers of salad greens, mustard and mayonnaise.
Ingredients
1.5 kilogram pork Scotch fillet
1 cup gutsy-flavoured red wine
2 tablespoons wine vinegar
2 carrots, peeled and sliced
1 onion, peeled and sliced
10 juniper berries, crushed
2 bay leaves, crushed
1-2 teaspoons chopped fresh tarragon or ½ teaspoon dried tarragon
½ teaspoon ground ginger
¼ teaspoon ground cloves
¼ teaspoon ground allspice or 4 whole allspice, crushed
grated rind one lemon
½ cup sour cream or cream, optional
Method
Tie the pork Scotch fillet at 2.5-3-cm intervals to ensure it keeps a good shape while cooking.
Place the pork in a deep dish, lidded container or a resealable plastic bag with the wine, vinegar, carrots, onion, juniper berries, bay leaves, tarragon, ginger, cloves, allspice and lemon rind. Turn to coat evenly and cover or seal. Refrigerate overnight.
Turn the slow cooker on to low to pre-warm while preparing the pork for cooking.
Remove the pork from the marinade and strain the marinade, reserving both the liquid and the vegetables and spices.
Pat the pork dry on an absorbent paper towel. Heat a good dash of oil in a frying-pan and, when very hot, add the pork and brown well on all sides. The pan will spit wildly, but if the pork does not spit, then it will be stewing, so you need it to be hot! Set aside. Brown the carrots, onion and spices. Add the marinade and bring to the boil.
Into the pre-warmed slow cooker put the pork vegetables, spices and reserved marinade and cover.
Cook on low for 5-7 hours or on high for 3-4 hours, or until the meat is tender. Carefully remove the pork from the slow cooker and set aside.
If making a sauce to accompany the pork, strain the cooking liquid from the vegetables into a saucepan and simmer until reduced by half. Stir in the cream and season with salt and pepper and a dash of prepared mustard if wished.
Serve with potato gnocchi and steamed carrots toss with butter and chopped fresh tarragon.
Cooks Tips
- When browning the pork, do not use a plastic-style string to tie the pork to keep in shape as it will melt when placed into the hot frying-pan. As the pork will spit wildly when browning, keep your lower arms covered to avoid burns. Variations: - Use a sweeter-style white wine like Riesling or Gewurztraminer in place of red wine. - Look for a German mustard, it is darker than French or English and has a pungent sweet/sour taste. - Use orange rind in place of lemon rind.