Add to Cookbook

Garlic and tomato pork braise
25-30 minutes
in the slow cooker: low 5-7 hours, high 3-4 hours
8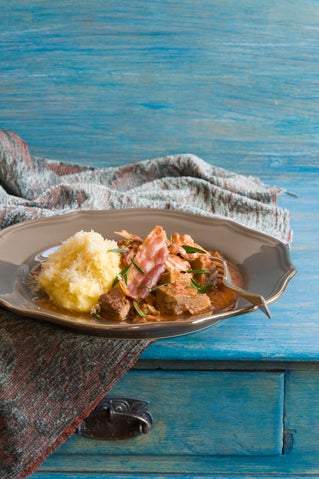 Take a few simple ingredients, slow cook them gently and create this stunning-tasting dish!
Ingredients
1 kilogram boneless pork for casseroling
8-10 thick-cut slices pancetta
400 gram can diced tomatoes
1 cup chicken stock
1 tablespoon minced garlic
1 tablespoon fresh rosemary leaves or ½ teaspoon dried rosemary
Method
Turn the slow cooker on to low to pre-warm while gathering and preparing the ingredients.
Cut the pork into 3-4-cm pieces. Dice the pancetta.
Heat a dash of oil in a frying-pan and brown the pork pieces over a high heat until well browned. This is best done in batches. Brown the pancetta with the last batch of pork.
Place the pork and pancetta with any remaining oil from the pan (the pancetta will have given the oil a gutsy flavour), into the pre-warmed slow cooker.
Mix together the tomatoes, stock, garlic and rosemary and pour into the slow cooker.
Cover and cook on low for 5-7 hours or on high for 3-4 hours, or unti lthe pork is meltingly tender.
Serve with Parmesan and rosemary polenta and your favourite seasonal vegetables.
Cooks Tips
Variations: - Add ½ cup black olives. - Add ¼-½ cup semi-dried tomatoes. - Use sage in place of rosemary. - Add a diced onion. - Use bacon rashers or steaks in place of pancetta. - If browning, do not overcrowed the pan as the pork will stew rather than brown. - Deglaze the pan with a little stock to lift all the sediment off the base of the frying-pan. It will add a little extra flavour to the braise. - Pancetta is steaky bacon cut from belly pork and cured with salt, pepper and other spices. It is sweeter and spicier than smoked bacons.