Add to Cookbook

Garden-fresh strawberry jelly
10 minutes, chilling time: overnight
20 minutes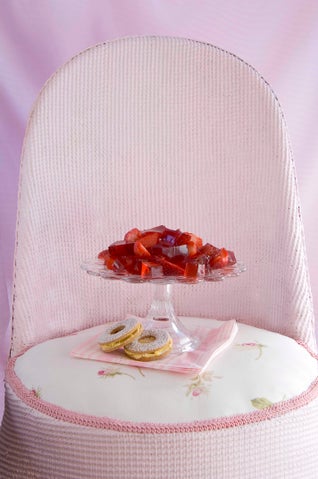 Cut this summer jelly into small cubes and serve in glass bowls. It will look like precious pink crystals.
Ingredients
1 kilogram strawberries, hulled
2 cups water
½ cup sugar
2 tablespoons gelatin
Method
Slice the strawberries and place in a saucepan with 1½ cups of the water and all the sugar.
Simmer very gently for 20 minutes until the strawberries are softened. Strain through a jelly bag or clean Chux cloth placed cover a sieve for about 2 hours. Do not squeeze, as the jelly will be cloudy.
Sprinkle the gelatin over the remaining water and allow to swell. Heat for 15-20 seconds in the microwave or until the gelatin has dissolved. Stir into the strawberry juice, Pour into a loaf tin or shallow lasagne-style dish and refrigeratre overnight until the jelly has set.
Cut into cubes to enjoy with summer fruit and ice cream if wished.
Cooks Tips
- Strawberries are delicious "poached" in wine or spiced syrup. They only need to be warmed through.