Add to Cookbook

Fruit and caramel self-saucing pud
15 minutes
in the slow cooker: 4-5 hours, using high and low
10-12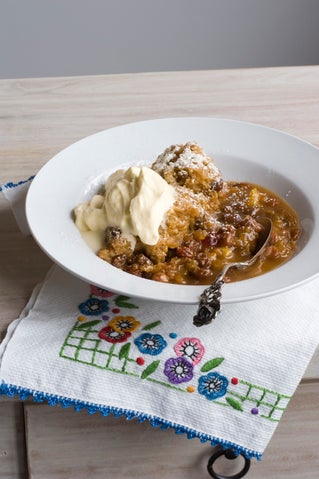 This recipe is a favourite of a good friend's mother, who found it in a magazine somewhere some time ago and has kept it torm out of the mag in her recipe scrapbook for years. Whoever the original author was, I thank you, it's divine. It is ideal for a large family gathering.
Ingredients
Caramel sauce
1 litre boiling water
¾ cup sugar
75 grams butter, diced
Pudding
2½ cups flour
2 teaspoons baking powder
2 teaspoons baking soda
2-3 teaspoons mixed spice
1½ cups sultanas
1 cup currants or raisins
1 cup brown sugar
1¼ cups milk
50 grams butter, melted
Method
Turn the slow cooker on to low to pre-warm while gathering and preparing the ingredients.
Stir the water, sugar and butter together until the sugar has dissolved and the butter melted. Pour into the pre-warmed slow cooker and cover with the lid.
Sift the flour, baking powder, baking soda and mixed spice into a large bowl. Stir in the sultanas and currants or raisins and brown sugar and make a well in the centre.
Pour the milk into the well and, using a wooden spoon, stir gradually to form a thick batter, free of flour lumps. Once all the milk has been added, stir in the butter.
Spoon the batter evenly into the hot sauce and cover with the lid.
Cook on high for 1 hour and then turn to low for a further 3-4 hours. Do not lift the lid for the first 2 hours of cooking time. Serve warm with whipped cream.
Cooks Tips
- For slow cookers with a 'keep warm' function, this pudding, once cooked can be kept warm for an extra 1-2 hours and still be delicious when served. Variations: - In place of sultanas and currants or raisins, use your favourite combination of dried fruits. - Add the grated rind of 1 orange to the batter, and maybe a small handful of mixed peel.