Add to Cookbook

Fresh Mango And Lime Chutney With Crisp Poppadums
Makes dip for 10 poppadums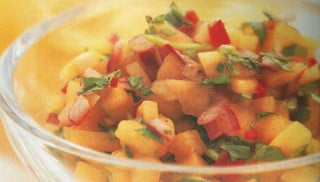 Poppadums are quick to cook up and make a lovely light "tool" for dipping. Pan fry them in a light oil (canola is fine) rather than microwaving. They will be lighter in texture. This can be done up to 4 hours ahead. Store in a sealed container.
Ingredients
1 mango
2 tblsp mint
2 tblsp coriander
1 large red chilli, deseeded and chopped
½ small red onion, peeled and finely chopped
grated rind and juice one lime or lemon
1 tblsp tamarind pulp
¼ cup warm water
10 plain poppadums
Method
Cut down either side of the mango stone to remove the two halves. Dice the flesh, but not through to the skin. Push the skin uppermost to make the flesh stand proud and if can then easily be scrapped into a bowl.
Add the mint, coriander, chilli, red onion, lime or lemon rind and juice.
Mix the tamarind pulp with the water and mash to a mirky paste. Strain and add the liquid to the mango mix. Toss.
Heat oil in a frying pan about 3cm in depth. When hot, cook the poppadums one at a time, until they have turned a light golden colour. Drain on a wire rack while you cook the remaining poppadums.
Serve as a refreshing nibble with rice crackers or poppadums.