Add to Cookbook

French country pork braise
20 minutes, soaking time overnight
in the slow cooker: low 7-9 hours, high 4½-6 hours
6-8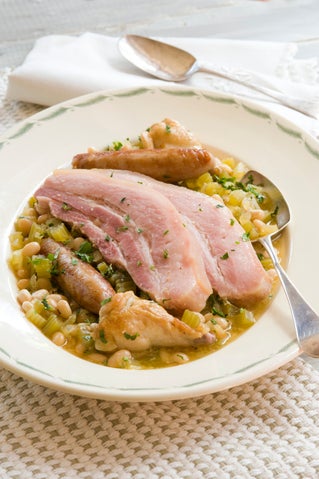 The ultimate slow-cooked pork dish - perfect for winter nights.
Ingredients
1 cup dried haricot beans
4 stalks celery, trimmed and finely chopped
1 onion, peeled and chopped
3 tablespoons minced garlic
1 tablespoon prepared mustard
1 kilogram piece salted pork belly
1 bouquet garni
2 tablespoons golden syrup
2 cups chicken stock
8 chicken wing portions
6 thick pork sausages
Method
Soak the beans in plenty of cold water overnight. Allow 3-4 cups of water.
Turn the slow cooker on to low to pre-warm while gathering and preparing the ingredients.
Drain the beans and place in a saucepan with sufficient clean cold water to cover and bring to the boil. Boil rapidly for 20 minutes. Drain well.
Scatter the beans into the pre-warmed slow cooker. Stir through the celery, onion, garlic and mustard.
Sit the pork on the beans, fat-side uppermost. Add the bouquet garni, golden syrup and stock and cover with the lid.
Cook on low for 5-6 hours or on high for 3-4 hours.
Cut the chicken wings in half, cut off and discard the wing tip portion. Brown the chicken and sausages in a dash of oil in a frying-pan. The sausages can be cut into halves or thirds if wished.
Place the chicken and sausages around the outside of the pork belly and cover with the lid.
Cook for a further 2-3 hours on low for 1½-2 hours on high.
Serve the casserole by slicing the pork and placing in deep plates or shallow bowls with a generous serving of beans and cooking juices, chicken wings and sausages. Scatter with chopped fresh parsley or thyme before serving if wished.
Cooks Tips
- For a gutsier taste to the braise, use French or German mustard. - Salted pork belly is literally belly pork that has been soaked in a salt brine. It has not been smoked.