Add to Cookbook

Flat Potato Bread With Feta
15 - 20 minutes
40 - 50 minutes
30 minutes (sitting time)
4 - 8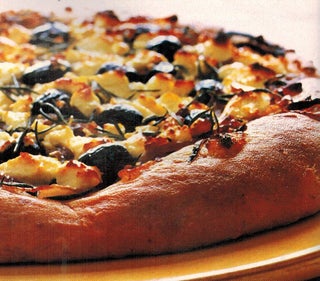 Potatoes included in the crust of this flat bread give it a tender crumb with a crispy crust.
Ingredients
about 500 grams floury potatoes
1 tblsp dried yeast
1 tsp sugar
1/2 cup warm water
3 tblsp oil (olive is nice here)
4 sundried tomato halves, chopped
2 cups flour
1 tsp salt
2 red onions, sliced
1/2 cup black olives
2 tblsp rosemary leaves
200 grams feta, crumbled
Method
Peel potatoes and cook in boiling, salted water until tender. Drain and mash. Set aside.
Dissolve the yeast and sugar in warm water and leave for 10 minutes or until frothy.
In a large bowl mix together the yeast, mashed potato, 1 tblsp of oil and the sundried tomato. Gradually mix in the flour and salt.
Cover with greased cling film and leave in a warm place for 30 minutes or until doubled in bulk.
Gently deflate the dough. Press out to a 28cm round. Transfer to a greased baking tray.
Cook the onions in the remaining oil until tender but not brown. Cool.
Scatter the cooked onions on to the dough. Sprinkle over the olives, rosemary and feta.
Bake the bread in the lower half of the oven at 220°C for 35-40 minutes until cooked and golden. Serve immediately.