Add to Cookbook

Fennel braised chicken with puy lentils
25 minutes
in the slow cooker low 5-7 hours, high 3-4 hours
5-6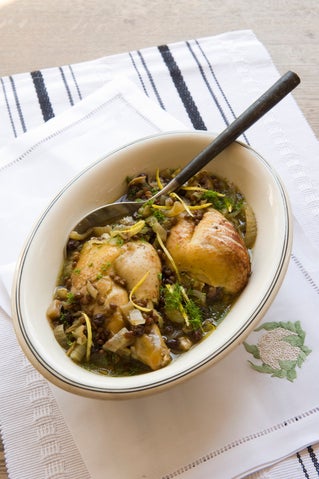 A simple and elegant recipe, ideal to share with friends at any time of the year.
Ingredients
2-3 medium-sized fennel bulbs
1.5-1.6 kilogram whole chicken
1 onion, peeled and thinly sliced
4-6 cloves garlic, crushed, peeled and sliced or 2 teaspoons minced garlic
½ cup puy lentils
¼ cup currants
1½ cups chicken stock
½ teaspoon paprika
Method
Turn the slow cooker on to low to pre-warm white gathering and preparing the ingredients.
Slice the fronds off the top of the fennel bulbs, chop finely and set aside. Slice the fennel bulbs finely.
Rinse the chicken well and pat dry with an absorbent paper towel, especially the cavity of the chicken.
If wished, tie the chicken legs together and tuck the chicken wings under the chicken; this will ensure the chicken keeps a good shape during cooking.
Heat a good dash of oil in a large, heavy-based frying-pan and, when hot, carefully brown the whole chicken on all sides as well as possible.
Into the pre-warmed slow cooker put the chicken, sliced fennel bulbs, onions, garlic, puy lentils, currants and stock. Sprinkle with the paprika and half the reserved fennel fronds and cover with the lid.
Cook on low for 5-7 hours or on high for 3-4 hours.
Serve the chicekn in chunky portions with the braising liquid and vegetables. Garnish with the remaining fennel and some shredded lemon rind if wished.
Cooks Tips
Variations - Use bown or green lentils in place of puy lentils, but not red lentils. - Use barley in place of lentils. - Use half chicken stock and half white wine or vermouth. - Add 3-4 tablespoons cream before serving. - Stuff the chicken with a lemon and currant spiked bread-based stuffing. Add extra cooking time, about 1-2 hours on low and 40-60 minutes on high. - 5-6 leg and thigh pieces can be used in place of the whole chicken. - Puy lentils are smallish green-blue lentils that originated in central France and have reached culinary cult status here in recent time, invariably in part to the AOC status, which is a guarantee of place of origin qualification. They retain their shape and flavour when cooked, imparting a sweet flavour with a hint of smokiness.