Add to Cookbook

Feijoa and elderflower fool
10 mintues
10 minutes, chill time: 4 hours
6-8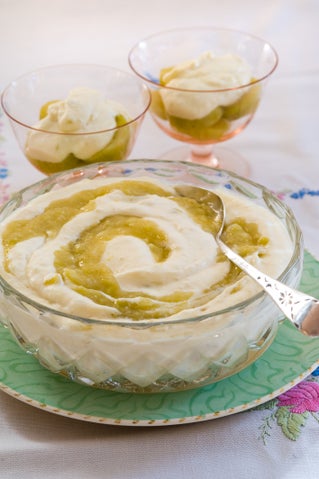 I used Sophie's bottled feijoas, scented with heavily perfumed elderflower cordial, to make this indulgent and sensational creamy winter pudding.
Ingredients
1¾ cups milk
¾ cup caster sugar
3 eggs
300ml bottle cream, well chilled
2 cups pureed poached feijoas
2 tablespoons elderflower cordial
Method
Bring the milk to scalding point in a saucepan. Beat the sugar and eggs together in a heat-proof bowl until light. Gradually pour in the hot milk, whisking or stirring quickly to mix.
Place the bowl over a saucepan of simmering water and cook, stirring regularly until the custard is thick. Remove from the heat, cool, cover and chill.
Whip the cream until thick and fold into the chilled custard. Pour into a serving bowl. Stir the feijoa puree and elderflower cordial together and gently fold into the creamy mixture. Serve soon after making.