Add to Cookbook

Farmhouse Sausages With Red Onion Marmalade and Roasted Garlic Mash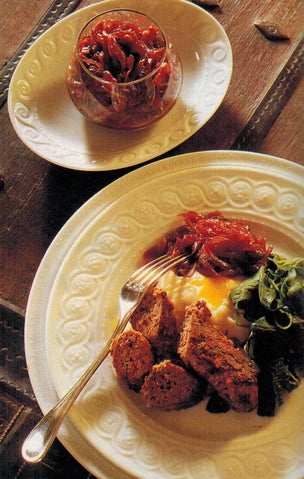 For this Onion Marmalade I have cooked sweet red onions in red wine and honey and added a dash only of Balsamic vinegar at the end. Its mild winey taste adds just enough zing. If you do not have Balsamic use half the quantity of cider or red wine vinegar. And I've paired the marmalade up with sausages, homemade ones that are a great variation on the normal run of the mill mince dishes and roasted garlic mash.
Ingredients
Onion marmalade
4 red onions, peeled and finely sliced
2 tblsp oil
2 cloves garlic, peeled and finely chopped
¼ cup currants
1 cup red wine
½ cup liquid honey
2 tblsp balsamic vinegar
Sausages
250 grams each minced pork and beef
2-3 cloves garlic, peeled and mashed to a paste
2 tblsp chopped fresh herbs
1 orange (grated rind)
1 egg
1 tsp ground nutmeg
2 cups fresh breadcrumbs (white or brown)
Roasted garlic mash
1 bulb garlic
1 kilogram potatoes
¼ cup boiling hot milk or cream
Method
Marmalade
Cook the finely sliced red onions in a dash of oil in a deep frying pan over a moderate heat for about 5 minutes until the onions have softened.
Add the garlic, currants, red wine and honey. Simmer for 20-25 minutes until the onions are very soft and the liquid has almost evaporated.
Season with a dash of salt and pepper and stir in the balsamic vinegar. When cool store in an airtight jar in the refrigerator.
Sausages
In a bowl mix together the minced pork, beef, garlic, herbs, orange rind, egg, nutmeg, salt and pepper.
With wet hands roll into 6 even sausages about 15cm in length.
Roll in the breadcrumbs. Refrigerate until ready to cool. Pan-fry for about 15 minutes, turning occasionally until well cooked. Serve with the Onion Marmalade and Roasted Garlic Mash.
Roasted garlic mash
Place the bulb into the centre of a large piece of foil. Drizzle with a little oil and wrap securely in the foil. Bake at 180ºC for about 45 minutes until a skewer can be inserted freely. Cool.
Mash the potatoes. Take the bulb of garlic and cut in half horizontally. Squeeze the centre cooked pulp into the potatoes and discard the papery skins.
Add the butter and mix in sufficient hot milk or cream to achieve fluffy whipped potatoes. Season well with salt and pepper.
Cooks Tips
- As these sausages are home made and lean (no fat), they are much drier than bought sausages. - If you do not have balsamic, use half the quantity of cider or red wine vinegar.