Add to Cookbook

Family beef potato-topped casserole
without browning: 20 minutes, with browning: 30 minutes
in the slow cooker low: 6-7 hours, high: 3-4 hours
5-6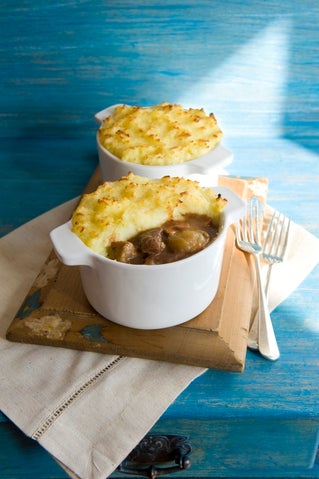 A classic basic that can be easily altered to make your own version, with your family's favourite flavours.
Ingredients
750 grams lean beef for casseroling
8-10 pickling-size onions, peeled
2-4 rashers bacon, trimmed of rind
125 grams mushrooms
1-2 teaspoons minced garlic
1 bouquet garni, optional
¼ cup tomato paste
2 tablespoons flour
2½ cups beef stock or water
Method
Turn the slow cooker on to low to pre-warm while gathering and preparing the ingredients.
Cut the beef into 3-cm pieces. Halve the pickling onions if large and dice the bacon.
If wishing to brown the ingredients then brown the beef and pickling onions well in a dash of oil in a hot frying pan.
Put the beef, onions, bacon, mushrooms, garlic and bouquet garni if using into the pre-warmed slow cooker.
Mix together the tomato paste, flour and stock or water to make a smooth paste. Pour into the beef and vegetables and stir to mix. Season well with salt and pepper. Cover with the lid.
Cook on low for 6-7 hours, or on high for 3-4 hours, or until the beef and onions are tender. Serve as is, or under a mashed potato top and accompany with seasonal vegetables.
Cooks Tips
Variations:
- Replace beef with lamb or hogget.
- Use wine in place of stock.
- Add a 400-gram can of chopped tomatoes.
- Add 1-2 teaspoons Vegemite for a great flavour.
- Replace 1 cup of stock or water with a 400-gram can condensed tomato soup.
- Add 2 cups frozen mixed vegetables once cooked. Cover and allow a further 30 minutes' cooking time on high to cook the vegetables and bring the casserole back up to temperature.
- Add 1x 32-gram packet French onion soup mix for extra flavour. Stir into the liquid ingredients.
- Double the recipe and freeze half for another time. Add additional cooking time - 2 hours on low or 1 hour on high.
- For mushrooms, use whole button musthrooms or chunkily diced flat mushrooms.
- If you do not have pickling onions, use 2 large onions, peeled and diced.