Add to Cookbook

Easy chocolate croissants
10 minutes, cooling time 2 hours
10 minutes
4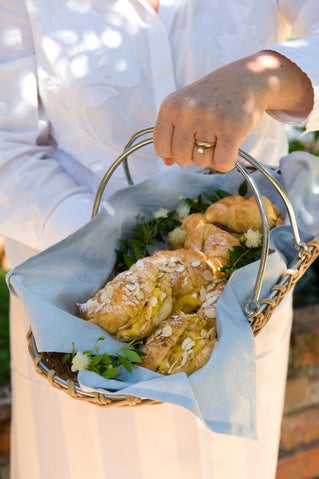 Rich and decadent, these croissants will be a huge hit. Best served with strong coffee flavoured with a few cardamom pods or a cinnamon stick. And try the rich almond croissants - delicious!
Ingredients
175 grams dark chocolate, chopped
½ cup cream or mascarpone
1 teaspoon vanilla essence
8 small or 4 large croissants
icing sugar for dusting
Method
Put the chocolate, cream or mascarpone and vanilla into a jug or bowl.
Microwave on high power (100%) for 1½ minutes. Stir to make a smooth sauce. If the chocolate is still in pieces, heat for a further 30 seconds and stir again.
Refrigerate for 2 hours or until thick.
Preheat the oven to 180ºC.
Cut the croissants in half horizontally. Scoop 1 tablespoon of thick chocolate and place in the centre of the centre of each croissant.
Place on a tray. Warm in the preheated oven for 7-10 minutes only. Serve dusted with icing sugar.