Add to Cookbook

Easy Almond Croissants
45 minutes, cooling time 45 minutes
10 minutes
4-5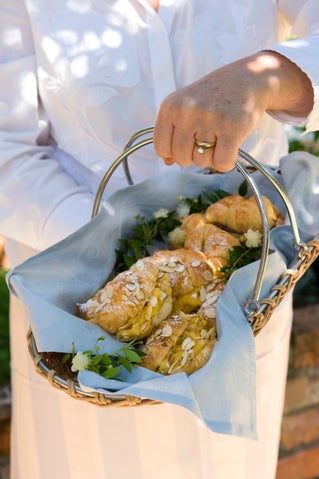 Fill croissants with this smooth luscious almond custard for something special.
Ingredients
1 cup milk
1 tsp vanilla essence
1 tsp almond essence (optional)
2 egg yolks
¼ cup caster sugar
¼ cup flour
1 cup ground almonds
4-5 large croissants or 8-10 small croissants
2 tablespoons icing sugar
¼ cup flaked or sliced almonds
Method
Bring the milk and essence to scalding point in a saucepan.
In a bowl beat the egg yolks, sugar and flour together to make a thick paste. Gradually pour the hot milk onto the egg mixture, beating quickly to mix together.
Return the mixture to the saucepan and stir over a low heat until the mixture becomes quite thick. Boil for 1 minute stirring all the time. Add the ground almonds and set aside to cool.
Preheat the oven to 180ºC.
Cut a split the thickest part of the croissants and fill with an even amount of almond paste. Place on an oven tray.
Sift the icing sugar over the croissants and scatter the flaked or sliced almonds on top.
Heat in the preheated oven for about 8-10 minutes until warm. Dust with extra icing sugar to serve if wished.