Add to Cookbook

Duck Breast With Green Chillies In A Creamy Curry Sauce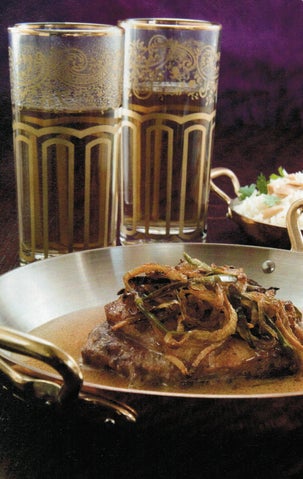 Be adventurous by using duck instead of chicken in this delicous, spicy dish.
Ingredients
300 ml bottle cream
1 tblsp prepared mustard (Dijon is nice here)
1 tsp ground cumin
1 tsp garam masala
1 tblsp lemon juice
¼ tsp chilli powder
Duck
1 cinnamon stick
6 cardamom pods
6 whole cloves
4 duck breasts
1 large onion, peeled and cut into rings
2.5cm piece ginger, peeled and shredded
1-3 fresh hot green chillies, deseeded and sliced
½ tsp yellow mustard seeds
1 clove garlic, peeled and finely chopped
Method
Mix together the cream, mustard, cumin, garam masala, lemon juice and chilli powder.
Heat a dash of oil in a frying pan and, when hot, add the cinnamon stick, cardamom pods and whole cloves, stirring constantly to avoid the spices burning. When fragrant, after about 15-30 seconds, place the duck pieces into the pan, skin side down in a single layer to brown quickly. Turn after 1-2 minutes and cook the other side for the same time. Remove the duck from the pan and place in an ovenproof dish. Discard half the remaining fat.
Add the onion, ginger and green chillies to the duck fat in the pan and cook until light brown in colour. Remove with a slotted spoon and spread over the duck.
Add the mustard seeds to the hot pan and once they start to pop, add the garlic, stirring until the garlic becomes golden. Add the creamy sauce mixture to the pan, and bring to the boil. Pour it over the duck.
Bake uncovered in a 180ºC oven for 25 minutes. Serve the duck with chutneys, rice and bread.