Add to Cookbook

Dorset steak and sausage stew
without browning 20 minutes, with browning 30 minutes
low 5-7 hours, high 3-4 hours
6-8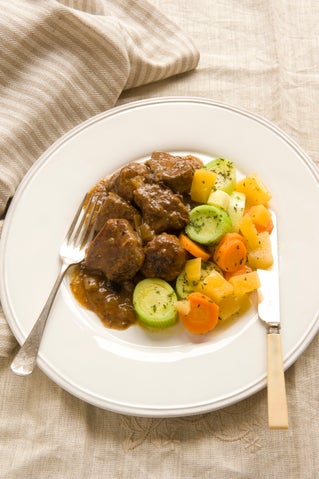 Britain is home to so many regional dishes. This one is from one of my mother's old cookbooks, jazzed up for today. It combines both meat and sausages in a very enjoyable stew that has the tiniest hint of cloves, which are a hark back to the early days of the spice trade. Cloves were one of the first commodity spices available and it is a spice that works well with beef.
Ingredients
Beef
1 kilogram lean beef for casseroling
¼ cup flour
1 tablespoon brown sugar
1 teaspoon dry mustard
1 teaspoon beef stock powder
¼ teaspoon pepper
Sausage meatballs
250 grams beef sausage meat
½ cup fresh breadcrumbs
¼ cup currants or sultanas
1 tablespoon chopped fresh thyme or ½ teaspoon dried thyme
Sauce
1 onion, peeled and diced
1 cup beef stock
½ cup port or red wine
2 tablespoons redcurrant or port wine jelly
4-6 whole cloves
Method
Turn the slow cooker on to low to pre-warm while gathering and preparing the ingredients.
Cut the beef into large 4cm sized pieces. Mix together the flour, sugar, mustard, stock powder and pepper. Toss the meat in the seasoned flour mix to coat. This is easiest done in a plastic bag. Shake off the excess and keep any remaining seasoned flour.
In a separate bowl, mix together the sausage meat, breadcrumbs, currants or sultanas and thyme and mix well. Take dessertspoon-sized pieces and roll into balls. Toss in the remaining seasoned flour.
If wishing to brown the ingredients then heat a dash of oil in a frying pan and when hot, brown the beef and sausage meatballs well.
Into the pre-warmed slow cooker put the beef, sausage meatballs, onion, stock, port or red wine, redcurrant or port wine jelly and cloves and stir as well as possible to mix. Cover with the lid.
Cook on low for 5-7 hours or on high for 3-4 hours. Serve the stew with seasonal vegetables.
Cooks Tips
Variations: - Use the meat from lamb or pork sausages. Buying flavoured sausages will vary the flavours too. - Use marmalade and medium-sweet sherry in place of redcurrant or port wine jelly and port or red wine. - Add vegetables like carrots, parsnips, leeks and mushrooms to make a one-pot meal. - Replace the cloves with 2 blades of mace. - If you are unable to get sausage meat, buy 3-4 thick sausages and squeeze the meat from them to mix with the other ingredients. - Use pork sausage meat in place of beef sausage meat.