Add to Cookbook

Date Loaf
60 minutes includes cooling time
40 minutes
Makes 1 loaf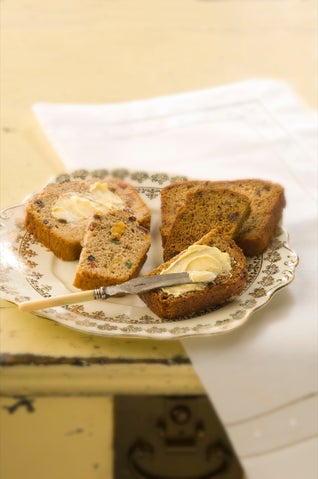 A date loaf is always a solid stand-by to have in the cupboard and I remember as a child this was one of the first recipes I was taught to cook. I enjoy it spread with butter and if it gets a bit stale, toast it - it's just wonderful.
Ingredients
1 cup chopped dried dates
1 teaspoon baking soda
1 cup hot tea
2 tablespoons butter
¾ cup sugar
1 egg, beaten
2 cups flour
2 teaspoons baking powder
½ cup chopped walnuts, optional
Method
In a bowl mix together the dates, baking soda and hot tea. Allow the mixture to stand for one hour or until cool.
Preheat the oven to 180ºC. Grease and line the base of a medium 22cm x 9cm loaf tin.
Using a wooden spoon, mix the butter and sugar together, the mixture will not cream but it needs to be well mixed.
Gradually beat in the egg a little at a time until well mixed in.
Sift the flour and baking powder together. Stir the date mixture into the butter mixture alternately with the flour and nuts, if adding. Turn into the prepared loaf tin.
Bake in the preheated oven for about 40 minutes or until a skewer inserted comes out clean. Allow to stand in the tin for 10 minutes before turning out on to a cake rack to cool.
Store in an airtight container.
Cooks Tips
Use well-dried packaged dates not the fresh dried dates found in the fruit an dvegetable aisle, as these are too moist and the recipe will not be successful.