Add to Cookbook

Date and lemon couscous salad with lemon dressing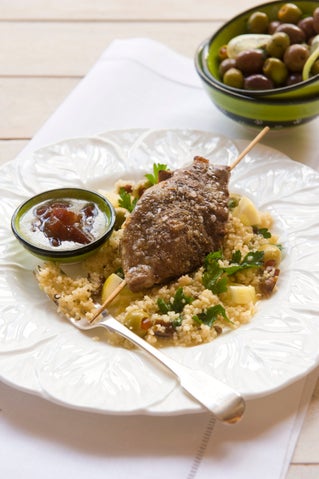 Great to addition to the summer BBQ's.
Ingredients
1½ cups hot water or chicken stock
1 cup instant couscous
2 tablespoons oil
10-12 dates, pitted and quartered
grated rind of 2 juicy lemons
¼-½ cup fresh parsley or coriander leaves
Lemon dressing
2 tablespoons freshly squeezed lemon juice
2 tablespoons honey
2 tablespoons oil, olive or avocado is nice here
1 teaspoon prepared mustard
Method
Pour the boiling water or stock over the couscous and stand for 10 minutes.
Fluff with a fork and drizzle over the oil. Cover with plastic wrap.
Microwave on high power (100%) for 2 mnutes. Fluff again and allow to cool a little.
Stir in the dates, lemon rind, parsley or coriander leaves and lemon dressing.
Cooks Tips
Variation:
- Add a handful of stuffed green olives, pistachio nuts or toasted almonds if wished.
- Fresh or dried dates can be used. Fresh dates are readily available and are far softer and sweeter than dried. To soften dried dates, toss into the couscous before pouring over the water or stock.