Add to Cookbook

Curried sausages
without browning 15 minutes, with browning 20 minutes
low 6-7 hours, high 3-4 hours
4-6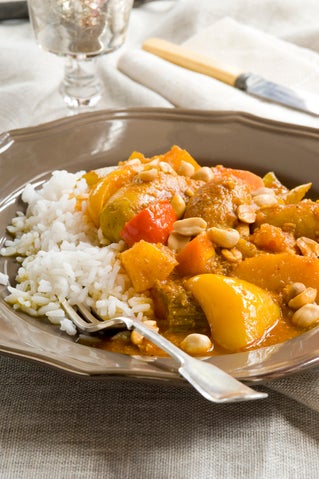 A quick no-fuss recipe that makes good use of pre-made curry pastes. Use your favourite.
Ingredients
8-10 thick beef sausages
2 capsicums, thickly sliced
3 stalks celery, thickly sliced
3 apples, peeled and thickly sliced
1 onion, peeled and thinly sliced
1 cup sultanas
432 gram can pinapple chunks in juice
½-¾ cup of your favourite Indian curry paste
2 cups water
Method
Turn the slow cooker on to low to pre-warm while gathering and preparing the ingredients.
If wishing to brown the ingredients then brown the sausages in a frying-pan over a moderate to low heat until well browned on all sides.
Into the pre-warmed slow cooker put the sausages. Scatter over the capsicums, celery, apples, onion and sultanas.
Mix together the pineapple chunks with the juice, curry paste and water and pour over the sausages and vegetables. Stir to mix as evenly as possible and cover with the lid.
Cook on low for 6-7 hours or on high for 3-4 hours.
Serve with mashed potatoes or rice and garlic with cashew nuts if wished.
Cooks Tips
- Prepared curry pastes are available in every supermarket today, allowing us to vary the flavour of our food regularly. I used a Madras-style curry paste with the pineapple to create a South Indian-style curry, which is sweeter and hotter and works well with sausages.
Variations:
- Use canned peach slices in juice in place of the pineapple.
- Add 2-3 tablespoons chopped fresh coriander before serving.