Add to Cookbook

Curried potato and mussel chowder
15 to 20 minutes
25 to 30 minutes
4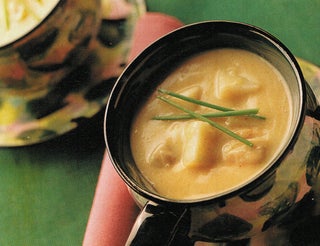 Potatoes make a delicious soup which can be served hot or cold. To a basic potato soup recipe, add curry powder for warmth, cream for richness and mussels for a smoky flavour.
Ingredients
4 large onions
2-3 large, juicy cloves garlic
75 grams butter
1 teaspoon curry powder
6 cups chicken stock
2.5 kilograms potatoes (old mashers)
1 cup cream and 1 cup milk, or use 2 cups of either
200 grams chopped cooked mussels
chives to garnish
Method
Peel and coarsely chop the onion. Crush and peel the garlic. Heat the butter in a large saucepan and toss the onion and garlic until they have softened. Do not allow them to brown.
Add the curry powder and cook for 1-2 minutes. Add stock and bring to the boil.
Peel and roughly chop 2 kilograms of the potatoes and toss into the soup. Simmer only until the potatoes are cooked. Puree the mixture in a food processor or push the potatoes and onion through a sieve.
Peel and dice the remaining potatoes and cook separately.
Return the soup to a clean saucepan and add the milk and cream, chopped mussels and the cooked diced potatoes. Garnish with the chives and serve.