Add to Cookbook

Curried fresh tomato and lentil soup
20 minutes
in the slow cooker: low 5-6 hours, high 3-4 hours
8-10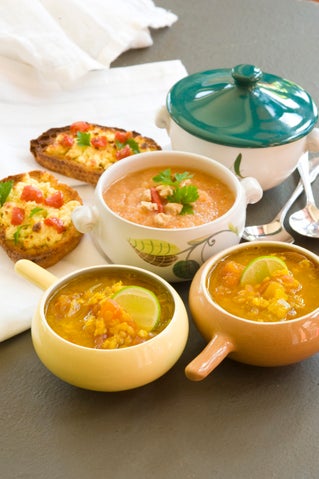 Choose juicy, ripe tomatoes to make this stunning-tasting, Indian curry-inspired soup.
Ingredients
2 red onions, peeled and finely chopped
2 teaspoons minced garlic
7 cm piece ginger, peeled and finely shredded or 1½ tablespoons minced ginger
2 teaspoons ground turmeric
2 tablespoons curry powder
1.5 kilograms juicy, ripe tomatoes
1 cup red lentils
3 teaspoons vegetable or chicken stock powder
6 cups water
Method
Turn the slow cooker on to low to pre-warm while gathering and preparing the ingredients.
Heat a good dash of oil in a frying-pan and cook the onions for about 10 minutes or until they begin to soften. Add the garlic, ginger, turmeric and curry powder and cook a further 2-3 minutes or until fragrant.
Transfer to the pre-warmed slow cooker.
Cut a small shallow cross, just through the skin, in the base of the tomatoes and cut out the core in the top. Blanch the tomatoes in boiling water for 1 minute and then plunge into cold water. Peel away the skin.
Chop the tomatoes roughly and add to the slow cooker with the lentils, vegetable or chicken stock powder and water. Stir to mix evenly and cover with a lid.
Cook on low for 5-6 hours or on high for 3-4 hours, or until the lentils are tender.
Serve in wide bowls garnished with lime wedges to squeeze into the soup, chopped fresh coriander to sprinkle in, and piles of crisp poppadoms, if wished.