Add to Cookbook

Cumin Steak On Spiced Flat Bread
10 minutes
30 minutes
10 minutes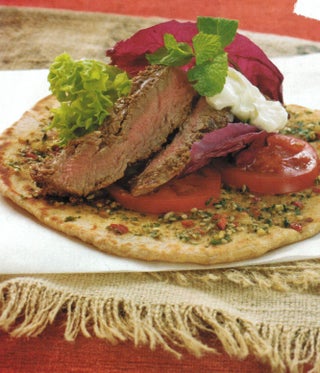 Skirt steak (more correctly flank skirt) is a cut of meat every cook needs to know about. It is lean, it is cheap and it takes only 8 minutes to cook. Too often you have to hunt for it in supermarkets where they prefer to sell more expensive quick-cooking steak cuts. Do try the skirt steak it has good flavour and is very versatile. This sweet spiced skirt steak is full of captivating Indian flavours and you can serve it alongside your favourite fresh chutneys or relishes with plenty of Basmati rice for an Indian meal with a twist.
Ingredients
500 gram piece skirt steak
Marinade
4 tblsp cumin seeds, lightly toasted and crushed
2-3 tsp minced garlic
2 tsp minced ginger
2 tsp garam masala
pinch chilli powder
¼ cup thick unsweetened plain yoghurt
2 tblsp oil
1 tblsp lemon juice
Method
Using a sharp knife, score the skirt steak on both sides, in a criss-cross pattern. Do not cut all the way through, just deep enough to allow some of the marinade to penetrate.
Mix together the crushed cumin seeds, garlic, ginger, garam masala, chilli, yoghurt, oil and lemon juice. Spread this evenly onto both sides of the meat. Place in a plastic resealable bag and refrigerate for 2 hours or preferably overnight. Remove from the fridge about 30 minutes before cooking.
Heat a dash of oil in a large frying pan. When hot add the steak and cook for 3 – 3 ½ minutes each side. The meat must be rare to medium-rare. Do not over cook the skirt or it will be tough. Allow to rest for 10 minutes and slice on an angle across the grain into thin strips. Serve on spiced flatbreads (see this website) and with your favourite salad ingredients.
Cooks Tips
Skirt steak, if over-cooked will be very tough. Cook only to medium rare and always allow standing time. Cut the skirt steak across the grain, otherwise it will be tough. Skirt steaks come in pretty good even-sizes, but if they are very thick, allow an extra minute cooking time either side. I have never cooked a skirt steak longer than 8 minutes. Other ways to use skirt steak include, marinating with Asian flavourings and cooking as above and
adding to stir fries. Season with oregano, olive oil and lemon juice and then grill and sliced add to risottos or marinate and bbq and serve with your favourite salad.