Add to Cookbook

Cumberland sausages
without browning 10 minutes, with browning 20 minutes
low 5-7 hours, high 3-4 hours
6-8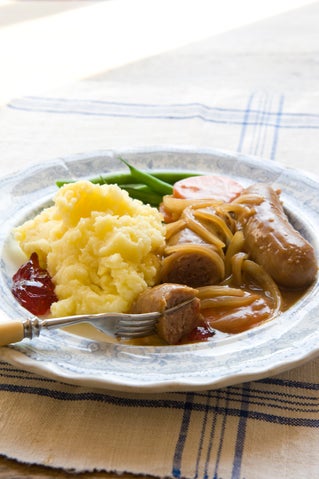 Orange juice, redcurrant jelly and Worcestershire sauce are essential ingredients in a Cumberland sauce. It was one of Queen Victoria's most preferred sauces and it's particularly nice with a good beef sausage.
Ingredients
8-10 thick beef sausages
2 onions, peeled and sliced
2-3 carrots, peeled and sliced
1 teaspoon minced garlic
½ cup gravy powder
3 cups water
¼ cup orange juice
¼ cup redcurrant jelly
1 tablespoon Worcestershire sauce
Method
Turn the slow cooker on to low to pre-warm while gathering and preparing the ingredients.
If wishing to brown the ingredients then place the sausages into a moderately low heated frying-pan and brown evenly. Set aside. Add the onions and carrots to the pan, with a dash of oil if required, and cook for 4-5 minutes over a moderately high heat until lightly browned. Add the garlic and cook a furthe rminute.
Into the pre-warmed slow cooker put the sausages, onions, carrots and garlic.
Stir together the gravy powder, water, orange juice, redcurrant jelly and Worcestershire sauce to make a smooth sauce. Pour over the sausages and cover with the lid.
Cook on low for 5-7 hours or on high for 3-4 hours.
Serve the sausages with your favourite vegetables.
Cooks Tips
Variations: - Use thick pork or venison sausages. - Use port jelly in place of redcurrant jelly. - Add 1-2 teaspoons prepared mustard with the sauce ingredients. - Do not try to add sausages to a very hot pan as this causes sausages to burst. - Do not prick the sausages before cooking as this causes the juice and thus the flavour to run away.