Add to Cookbook

Crumbed schnitzel with Lyn's vegetable medley
30 minutes
6-8 minutes, 20 minutes for the vegetables
4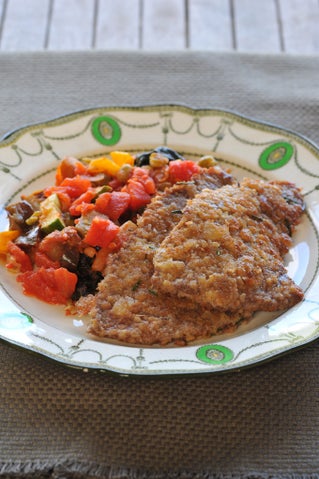 Schnitzels with fresh breadcrumbs - made with leftover bread that Lyn keeps in the freezer so as not to was a loaf that's become stale - are a regular at Lyn's as they can be quickly prepared at the end of a busy day. And for the vegetables. Lyn makes best use of whatever is in her garden; often it's a cross between a stir-fry and ratatouille as eggplant, courgettes and peppers grow well in her small garden patch.
Ingredients
1 egg, lightly beaten
1 teaspoon chopped fresh chives
¼ cup seasoned flour
3 cups fresh breadcrumbs
4 beef schnitzels
Lyn's vegetable medley
1 eggplant, trimmed and diced
1 onion, peeled and finely chopped
4 courgettes, trimmed and diced
1 capsicum, diced or sliced
400 gram can chopped tomatoes
2 tablespoons chopped fresh basil or 1 teaspoon dried
Method
Stir the egg and chives together in a shallow plate. Place the flour in a second plate and the breadcrumbs in a third.
Dust the schnitzels with flour, shaking off any excess. Dip both sides in the egg to coat completely and allow excess to fall off. Coat in the breadcrumbs, pressing each side firmly to ensure they adhere well. Transfer to a clean plate. Refrigerate for 10-20 minutes, this allows the crumb to set so it does not fall off when being cooked.
Pan-fry in a dash of oil or a knob of butter, allowing about 3-4 minutes each side. Cooking time will depend on the thickness of the schnitzel.
Lyn's vegetable medley
Heat a good dash of oil in a large saucepan or frying-pan and brown the eggplant over a moderately high heat, adding more oil if necessary. Set aside.
Add a dash more oil to the pan. Add the onion and cook until softened before adding the courgettes and capsicum. Toss in the hot oil to brown quicly.
Return the eggplant to the pan with the tomatoes and season with salt and pepper. Cover and simmer for about 10-15 minutes or until the vegetables are tender. Stir in the basil before serving.