Add to Cookbook

Cross-cut blade pot roast with Madeira gravy
15 minutes (no browning), 25 minutes (browning)
low 6-7 hours, high 3-4 hours
8-10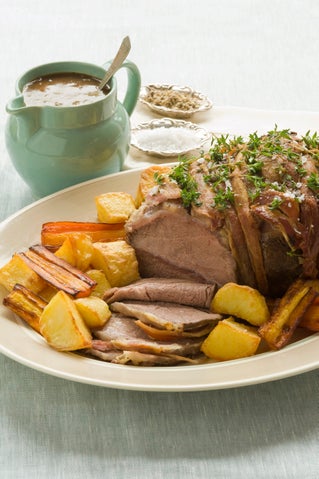 Normally this cut of beef is sold diced for braising or casseroling, but I find that it makes an exceptional pot roast when cooked in one piece. The flavour of the beef is superb and it is meltingly tender - so long as it is cooked only to medium. Roast a few vegetables in the oven to accompany this pot roast for a fabulous economical meal.
Ingredients
6-8 rindless rashers streaky bacon
1.6-1.75 kilogram cross-cut blade, in one piece
handful fresh thyme sprigs
25-50 grams butter
1 onion, peeled and finely chopped
1 cup Madeira or Port
2 tablespoons instant gravy powder
Method
Turn the slow cooker on to low to pre-warm while gathering and preparing the ingredients.
Place the rashers of bacon randomly over the beef and arrange the thyme on top. Secure the bacon and thyme with string.
If wishing to brown the ingredients (I strongly recommend browning for this recipe): Heat a good dash of oil in a large heavy-based frying-pan and brown the meat on all sides as evenly as possible. Brown well as this will ensure a good flavour. Set aside. Add the butter to the frying-pan and cook the onion over a low heat for 5-8 minutes until it has softened. Add the Madeira or Port and simmer until reduced by half.
Into the pre-warmed slow cooker put the onion and Madeira or Port and sit the beef on top. Season well with pepper and cover with the lid.
Cook on low for 6-7 hours or on high for 3-4 hours. I used a meat thermometer to ensure I cooked the meat to medium (60-65ºC).
Lift the beef from the slow cooker, place on a warm platter and cover. Allow to rest while preparing the gravy.
Make the cooking juices up to 2 cups with water and place into a saucepan with the gravy powder. Cook over a low heat, stirring constantly until thickened.
Serve the beef thinly sliced with your favourite vegetables and the Madeira gravy.
Cooks Tips
Variation: - Red wine can be used in place of Madeira or Port though the finished gravy is much thinner in flavour.