Add to Cookbook

Crispy Barbecue Prawns or Salmon with Two Dips
15 minutes
10 minutes
4-5 as a main or 8-10 as a nibble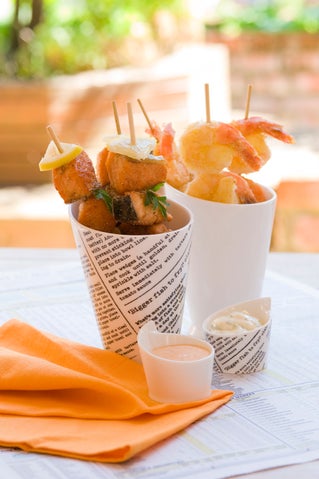 This quick, easy and tasty recipe can be served as a main, as a nibble by itself or on a tapas platter.
Ingredients
500 grams green prawns, with tails on or 500 gram piece boneless salmon fillet
½ cup flour
¼ cup fine or coarse cornmeal
oil for pan-frying, olive is best here
Cheat's rouille
1 red capsicum
1 cup of your favourite mayonnaise
1 teaspoon minced garlic
½-1 teaspoon paprika
4-5 strands saffron, optional
Lemon aioli
1 cup of your favourite mayonnaise
grated rind and juice 1 lemon
2 tablespoons chopped fresh parsley or chives
1 teaspoon minced garlic
Method
De-vein the prawns, if required. If using salmon, cut into 2cm pieces.
Season the prawns or salmon with a little salt. Mix together the flour and cornmeal and toss the prawns or salmon in the mix to coat lightly.
Heat the barbecue hot-plate and oil lightly. When hot, barbecue the prawns or salmon very quickly for 1-2 minutes only or until just cooked. Alternatively, cook in a hot frying pan for the same amount of time.
Place on paper towels to soak up any excess oil. Sprinkle with salt and freshly ground black pepper to season. Serve the prawns or salmon on skewers with aioli or herbed mayonnaise for dipping.
Cheat's rouille
Preheat the grill to 220ºC. Line a baking tray with foil.
Cut the capsicum into 3 or 4 wide pieces. Place skin-side up on the prepared baking tray.
Place under the preheated grill and grill for 3-5 minutes or until lightly blackened. Remove from the oven, cover with a clean tea towel and allow the capsicum to cool before peeling away the charred skin. Cool thoroughly.
In a food processor, put the capsicum, mayonnaise, garlic, paprika and saffron if using, and process until smooth. Stand for 30 minutes before serving to allow the saffron flavour to infuse. If wished, refrigerate until required. Serve at room temperature.
Lemon aioli
In a bowl, stir all the ingredients together. As a variation, add chopped capers or gherkins for a lemony tartare-style mayonnaise. Alternatively, use lime rind or juice in place of lemon. Add chopped corainder and a deseeded and finely chopped chilli for a Thai-inspired mayonnaise.
Cooks Tips
- Use coarse cornmeal for a crunchier texture.
- Decorate the skewers with fresh herbs and lemon, if wished.
Variation: In place of prawns or salmon, use tuna, groper (hapuku) or mussels. For a non-fish variation, chicken works well with both dips.
For the kids: Forget crumbing, but try the dips, if that fails, roll out the sweet chilli sauce for dipping.