Add to Cookbook

Creamy brioche sam-sams
20 minutes
Makes 6 large, or 12 small sandwiches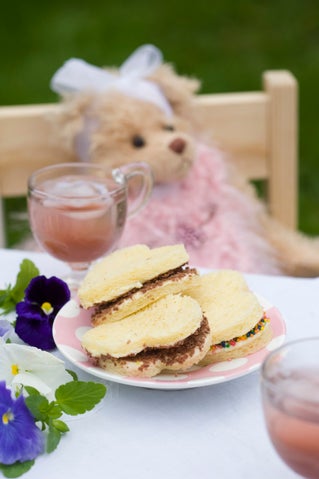 In my home, sandwiches made for little ones are called sam-sams. for children at an afternoon tea, it is more about presentation for, as well all know, only about half will be eaten as play takes over.
Ingredients
½ loaf brioche bread
125 grams cream cheese, softened
1 tablespoon icing sugar
½-1 teaspoon vanilla essence
grated chocolate
100s & 1000s
Method
Using a serrated knife, cut the brioche into 12 thin slices.
Beat the cream cheese, icing sugar and vanilla essence together until smooth.
Spread all slices with equal amounts of the cream cheese mixture.
Sprinkle half the slices with grated chocolate or 100s and 1000s. Top with the remaining slices. Cut into shapes or triangles and arrange on serving plates.
Cooks Tips
Variations: - Sweeten cream cheese with lemon honey or jam. - Sweeten cream cheees with gently squashed fresh raspberries.