Add to Cookbook

Creamed tartlets with citrus lychees
4-6, depending on the size of the tartlet tin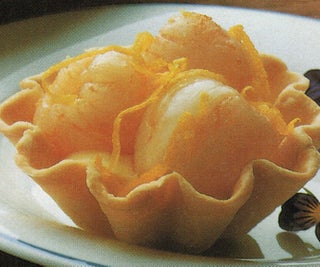 Ingredients
2 sheets ready-rolled shortcrust pastry
1 tablespoon unsalted butter
1 teaspoon grated orange rind
565 tin lychees
angostura bitters
600 ml container vanilla custard
orange rind for decoration
Method
Use the pastry to line the base of 4-6 tartlet tins. Bake blind at 200ºC for about 12-15 minutes until cooked. Remove the baking blind material and return the tarts to the oven for 2-3 more minutes to dry out.
Heat the unsalted butter in a frying pan and add the orange rind and cook for about 1 minute until the pan smells wonderfully fragrant.
Add the drained lychees and warm through. Add a good dash of angostura bitters and toss well. (Use orange juice if you do not have bitters).
Heat the custard in the microwave or in a saucepan until warm and pour into the prepared tartlets.
Arrange a few lychees on top and garnish with a sliver of orange rind.
Cooks Tips
- Make your own thick custard if you have time. - For a more formal dessert, fold ¼ cup of whipped cream into the custard. - Yoghurt can be used instead of the custard.