Add to Cookbook

Crazy chocolate cookies
30 minutes
12 minutes per batch
Makes 20 joined biscuits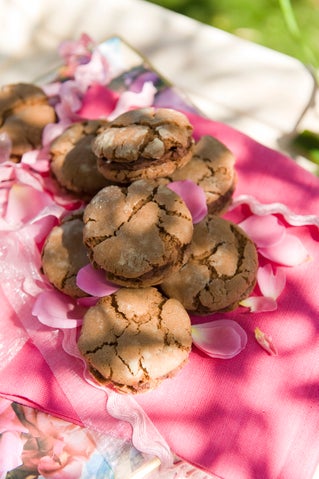 These biscuits are quite deceiving as they only go crazy and crack up in the last few minutes of cooking. They are equally delicious served unjoined and unceremoniously dunked into your tea before enjoying.
Ingredients
100 grams dark chocolate, roughly chopped
100 grams butter, diced at room temperature
1¾ cups self-raising flour
½ teaspoon baking soda
1 egg, beaten
¾ cup brown sugar
1 teaspoon vanilla essence
2-3 tablespoons icing sugar, sifted
rich chocolate cream (see recipe on our website)
Method
Preheat the oven to 200ºC. Grease two baking trays or line with baking paper.
Heat the chocolate and butter in the microwave for 1-2 minutes until the chocolate is almost melted. Stir both ingredients to mix evenly. Should small pieces of chocolate remain, allow the mix to sit a few minutes until all the chocolate has melted. If it needs further melting, microwave in 10-15 second bursts.
Sift the flour and baking soda together.
Using an electric mixer, beat the egg, sugar and vanilla together until light.
Stir the cooled chocolate mixture and sifted dry ingredients into the beaten egg mixture.
Roll teaspoonfuls of mixture into even-sized balls. Roll the balls in the icing sugar to coat and shake off any excess. Place on the prepared trays, allowing plenty of room for spreading.
Bake in the preheated oven for 10-12 minutes or until the biscuits have cracked on top. If not cracked, cook a further minute and check again.
Transfer to a cake rack to cool. The biscuits will become crisp on cooling. Join with the rich chocolate cream before serving. Store in an airtight container.
Cooks Tips
Variation
- For a not-so-rich option, try the chocolate butter icing recipe for joining biscuits instead.