Add to Cookbook

Cranberry Anzac Biscuits
30 minutes
18 - 20 minutes
Makes 2 dozen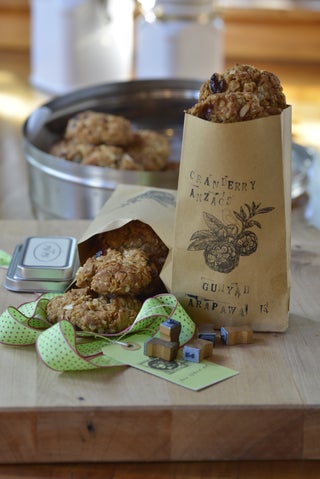 Studded with deep crimson-hued, dried cranberries, these Anzac Biscuits are simply delicious.
Ingredients
1 cup flour
1 cup soft brown sugar
1 cup coconut (desiccated or thread)
1 cup rolled oats
½ cup almonds, slivered, flaked of finely chopped almonds
½ cup dried cranberries
125 grams butter
2 tablespoons golden syrup
1/2 teaspoon baking soda
2 tablespoons water
Method
Preheat the oven to 180°C (160°C fan bake). Grease two baking trays.
Into a large bowl stir together the flour, sugar, coconut, oats, almonds and cranberries and make a well in the centre.
Heat the butter and golden syrup together. Dissolve the baking soda in the water and stir into the butter mixture. Pour into the dry ingredients and mix well. Roll large tablespoonfuls of mixture into balls - about the size of a small apricot - and place on the prepared tray, leaving enough room for the biscuits to spread. Using the palm of your hand, flatten the biscuits a little.
Bake in the preheated oven for 15-18 minutes, or until the biscuits are golden and have spread and risen a little. Cool on a cake rack. Stored in an airtight container, they will keep for 2-3 weeks.
Cooks Tips
This recipe comes from my Country Calendar Homestead Baking Cook Book.