Add to Cookbook

Country garlic chicken
30 minutes
in the slow cooker: low 6-7 hours, high 4-5 hours
6-8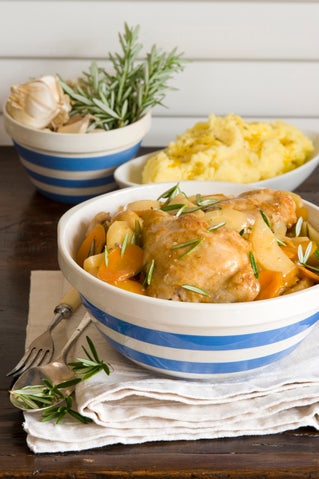 A simple dish that makes the most of winter vegetables. Some herbs withstand long slow cooking better than others as their flavours do not become overcooked or grass-like. Such herbs include thyme, oregano and sage, so do try these in place of rosemary to vary this family-friendly dish.
Ingredients
8 chicken leg and thigh portions
3 tablespoons flour
1 tablespoon paprika
½ teaspoon ground white pepper
12 cloves garlic, crushed, peeled and sliced thickly
2 carrots, peeled and sliced
2 parsnips, peeled and sliced
1 tablespoon fresh rosemary leaves, stems removed
1½ cups chicken stock or water
Method
Turn the slow cooker on to pre-warm while gathering and preparing the ingredients.
Remove the skin from the chicken if wished. The chicken portions can be cut in half if need be to fit into the slow cooker.
Place the chicken pieces into a clean plastic bag with the flour, paprika and white pepper, and toss to coat.
Heat a good dash of oil or a knob of butter in a heavy-based frying-pan and brown the chicken pieces well on all sides.
Into the pre-warmed slow cooker put the garlic, carrots and parsnips. Sit the chicken pieces on top and scatter over the rosemary leaves. Season well with salt and pepper. Pour in the chicken stock and cover with the lid.
Cook on low for 6-7 hours or on high for 4-5 hours. Serve the chicken stimple with the sauce from the slow cooker, with the carrots and parsnips and your favourite seasonal vegetables.
Cooks Tips
- Make sure the carrots and parsnips are placed into the slow cooker first as they will cook better.
Variations:
- Add half a 32-gram packet of onion soup or tomato soup mix to the flour and paprika for tossing the chicken portions in.
- Add 3-4 diced rashers of bacon. These can be pan-fried if wished. Use the bacon fat to brown the chicken, it will add extra flavour.
- Add a finely chopped onion or leek.
- Add 2-3 tablespoons Worcestershire or HP sauce before serving - scrumptious.
- Use a whole chicken in place of portions. Stuff the chicken with a rosemary-spiked simple bread stuffing. A stuffing will add flavour and help the chicken retain a good shape while cooking.