Add to Cookbook

Coq au vin
30 minutes
in the slow cooker low 6-7 hours, high 3-4 hours
4-6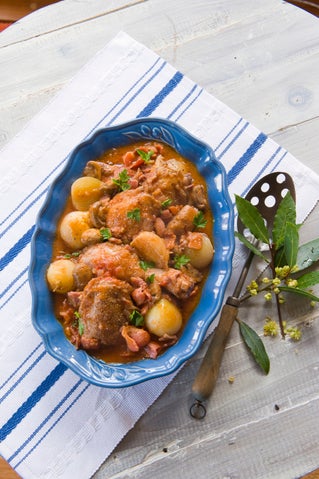 The traditional Coq au Vin, chicken in red wine, was prepared with an older bird. Thus it was simmered long and slow until the meat fell from the bones - perfect for slow cookers. However, today we do not get older birds which makes the cooking time less and the flavour not so intense, hence the inclusion of the chicken stock powder.
Ingredients
10-12 chicken pieces, bone-in (drumsticks or thighs are best here)
8-10 pickling-sized onions, peeled and halved if large
8 rashers rindless bacon, diced
250 grams button mushrooms, halved
2-3 teaspoons minced garlic
1 tablespoon chicken stock powder
1 bouquet garni, optional
¼ cup tomato paste
2 tablespoons flour
2 cups red wine
1 cup water
Method
Turn the slow cooker on to low to pre-warm while gathering and preparing the ingredients.
Brown the chicken in a knob of butter or a little oil in a heavy-based frying-pan over moderately high heat until the chicken pieces are well browned on all sides. Set aside. Add the onions and baocn to the pan and brown evenly.
Into the pre-warmed slow cooker put the chicken, onions, bacon, mushrooms, garlic, stock powder and bouquet garni, if using.
In a jug, stir together the tomato paste, flour, wine and water to make a smooth sauce. Pour over the chicken and cover with the lid.
Cook on low for 6-7 hours or on high for 3-4 hours, or until the chicken is tender.
Serve with your favourite potato dish and other seasonal vegetables.
Cooks Tips
Variations: - Use 2 diced medium-sized onions in place of the baby onions. - Use pancetta in place of bacon. - Use white wine in place of red wine. - Vary the wine flavour with different reds, but always choose a quality wine. - Chicken leg and thigh portions on the bone will tolerate being a little overcooked, unlike chicken breast. My preference is the thigh portiosn, bone-in for this recipe.