Add to Cookbook

Confit du Canard with Raisin jus
2 days to marinate
2 hours to cook, 20-25 minutes to reheat
4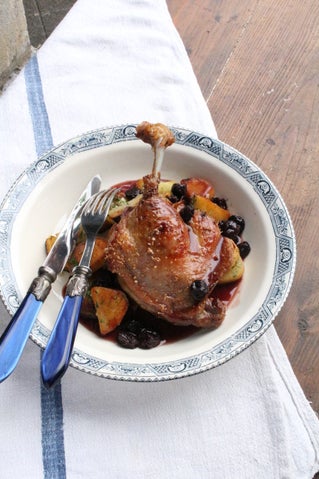 We eat duck confit like we might eat sausages at home – weekly. To my mind, this is one of the most enjoyable ways to prepare, cook and eat duck leg and thigh portions, especially in winter and, it's also an ideal dish to have with friends as it can be prepared during the week in advance and just baked on the night.
Ingredients
4 duck leg and thigh portions
6 tablespoons coarse or flaky salt
2 bay leaves, crushed
1 teaspoon coarsely cracked peppercorns
1 cinnamon stick, crushed
few whole cloves
few sprigs thyme
500-650 grams duck fat
Raisin jus
1 cup red wine
1 cup chicken gravy
½ cup dried but moist raisins
Method
Pat the duck portions dry with paper towels and place in a dish or sealable plastic bag. Sprinkle over the salt, bay leaves, peppercorns, cinnamon, cloves and thyme and turn to coat the duck pieces well with the mixture. Refrigerate, for 2 days, turning occasionally.
Remove the duck from the brine and wash well to remove any traces of salt. Pat dry on a paper towel.
Preheat the oven to 130ºC.
Heat the duck fat and in a flame-proof casserole and once melted add the duck portions, making sure they sit well beneath the duck fat. Bring to a simmer.
Transfer to the preheated oven and cook for 1 ½ -2 hours or until the meat shrinks well away from the bone. Carefully remove the duck from the duck fat and set aside. Strain the duck fat from the juice that you will now find at the bottom of the casserole - keep the juices it is wonderful to flavour gravies, soups or casseroles.
Pour a little duck fat into a container or back into the casserole, sufficient only to cover the base of the dish. Sit the duck back on top and then cover with the remaining fat - the duck portions must be well covered. Refrigerate overnight or until required.
Roast in the preheated oven for 25 minutes or until the duck is hot and the skin is crispy and golden. Serve with Poor Man's Sarladiase potatoes and raisin jus.
Raisin Jus
In a saucepan simmer together red wine and chicken gravy – make up the packet product if you have no home made to hand.
Add raisins and simmer until the mixture has reduced by 1/3rd – ½. Season with pepper.