Add to Cookbook

Coconut meringue cake
15 minutes
40-45 minutes
Makes 1x 20cm cake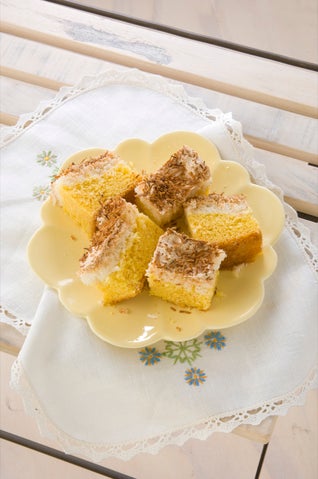 All sorts of wonderful things have come out of Australia, including this unusual and delicious cake with a coconut meringue topping.
Ingredients
175 grams butter, softened
¾ cup caster sugar
1 teaspoon vanilla essence
grated rind of 1 lemon
3 eggs (2 separated, 1 whole)
1½ cups flour, sifted
2 teaspoons baking powder
¼ cup milk
½ cup caster sugar
1 cup desiccated coconut
Method
Set the oven rack just below the centre of the oven. Preheat the oven to 180ºC. Lightly grease, flour and line a 20cm round or square cake tin.
Beat the butter, first measure of sugar, vanilla essence and lemon rind together in a large bowl until light and creamy.
Beat 2 egg yolks and 1 whole egg into the creamed mixture.
Fold the sifted flour and baking powder into the creamed mixture alternately with the milk.
Turn the mixture into the prepared cake tin.
In a clean bowl, beat the 2 egg whites until they are stiff but not dry. Add the second measure of sugar and beat until dissolved. Stir in the coconut and spread the mixture on top of the cake.
Bake in the preheated oven for 40-45 minutes or until a skewer inserted comes out clean. Be careful as the centre takes a long time to cook. Stand in the tin 10 minutes before turning out onto a cake rack to cool.
Store in an airtight container.
Cooks Tips
Egg whites will gain greater volume if they are at room temperature before being whisked.