Add to Cookbook

Cock-a-leekie soup
20 minutes
in the slow cooker: low 5-6 hours, high 3-4 hours
Makes 8-10 cups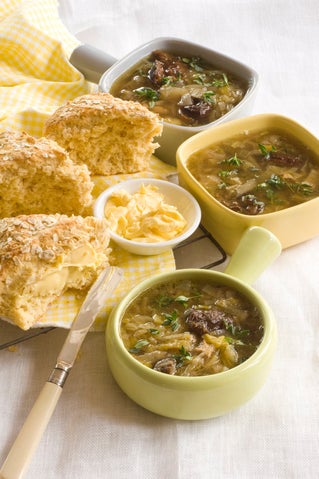 in the days of cock fighting the fugie or loser was made into a cock-a-leekie, which might seem a rather inglorious end to a hard life, but such a scrawny and tough bird added enormous amounts of flavour to this soup, though little meat I should imagine. The soup should be so thick with well-cooked leeks that it looks more like a stew than a soup. Some purists are against the prunes, but I like the sweetness they and the Madeira bring. And for a wee bit more Scottish tradition, serve freshly baked oat scones on the side.
Ingredients
2 large leeks, trimmed
1.5-1.6 kilogram whole chicken
1 onion, peeled and sliced
1 bouquet garni, optional
10 cups water or light chicken stock
1 cup chopped prunes
¼ cup Madeira, port or sweet sherry
1 cup chopped celery leaves
¼ cup chopped fresh thyme
Method
Turn the slow cooker on to low to pre-warm while gathering and preparing the ingredients.
Cut the leeks in half lengthwise and wash under running water to remove any grit caught in the layers. Slice finely.
Rinse the chicken well and place into the slow cooker. Scatter the leeks and onion around the chicken and sit the bouquet garni, if using, on top. Pour in the water or chicken stock and season well with salt and pepper. Cover with the lid.
Cook on low for 5-6 hours or on high for 3-4 hours, or until the chicken is tender.
While the chicken is cooking, soak the prunes in the Madeira, port or sweet sherry.
Carefully remove the chicken from the slow cooker and, when cool enough to handle, pull the meat from the chicken, discarding the bones and skin.
Tear the chicken into small pieces and return to the slow cooker with the prunes and Madeira, port or sweet sherry, celery leaves and thyme, and season with salt and pepper.
Serve the cock-a-leekie in deep bowls with richly buttered, warm oat scones (see recipe on our website).
Cooks Tips
- Celery leaves are full of flavour, so don't throw them away as they can add great flavour to soups, salads and sauces. - Madeira is a fortified sweet wine that was first made on the Portuguese island of Madeira in the north Atlantic. It is a delicious wine to use in both sweet and savoury foods where dried fruits like prunes or raisins are also included.