Add to Cookbook

Classic wine risotto with fennel and lemon
15 minutes
40-45 minutes
6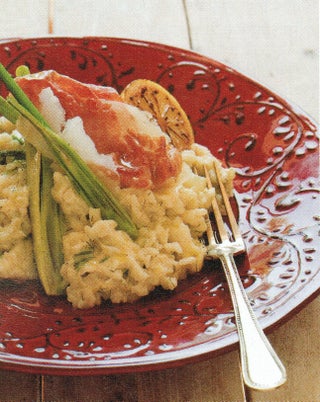 Risotto, creamy and well-flavoured, takes a little time to prepare but it is worthwhile.
Ingredients
2 fennel bulbs
50 grams butter
1 large onion, peeled and finely chopped
2 teaspoons minced garlic
2 cups short-grain rice
1 cup dry white wine
4 cups chicken stock (homemade is great here)
¼ cup freshly grated parmesan cheese
½ cup cream
Method
Trim the feathery green tips from the fennel bulbs, chop finely and set aside. Finely slice or shred the bulb.
Heat the butter in a large, wide and, if possible shallow saucepan or frying pan and cook the onion over a low heat for 10 minutes. Add the fennel bulb and garlic and continue cooking, stirring regularly for a further 5 minutes until the vegetables are well-softened but not coloured.
Add the rice and stir over the heat for 2-3 minutes until the rice whitens.
Add wine and stir over a moderately low heat until all the liquid has been absorbed.
Add the stock, about ½ cup at a time stirring frequently to ensure a creamy textured risotto. It will take about 30 minutes to add all the stock.
Once you have a creamy texture and the rice is tender and cooked, but not overcooked to a mush, stir in parmesan, cream, lemon rind and reserved fennel.
Season with salt and pepper and garnish with grilled bacon or prosciutto, fennel bulbs and extra parmesan cheese, if wished.